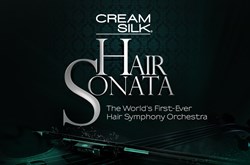 Manila, Philippines (PRWEB) October 18, 2013
Strong, beautiful hair is always a sight to behold. Now, it can be used to make music – literally.
Cream Silk, the No. 1 Hair Care brand in the Philippines, gives 10X stronger hair against hair fall. To demonstrate the power of strong hair, Cream Silk collaborated with internationally renowned bowmaker, Archetier Paul S.J. Goh to create Asia's First Human Hair Violin Bows, replacing strong horse hair with human hair that has been strengthened with Cream Silk Conditioner.
On October 17, Cream Silk will stage the "Cream Silk Hair Sonata: The World's First Hair Symphony Orchestra", a once-in-a-lifetime celebration of beauty, music and art through the biggest and most beautiful demonstration of hair strength in the world.
The Cream Silk Hair Sonata is a mixed-media performance headlined by the Hair Symphony Orchestra, a 42-piece Orchestra featuring a 10-member string all-female string ensemble, using human hair violin bows.
Maestro Gerard Salonga of the renowned ABS-CBN Philharmonic Orchestra will conduct the symphonies for the evening. Complementing the Hair Orchestra's serenades will be performances by Ballet Philippines as choreographed by Alden Lugnasan and the premiere of an all-new, all-original short film by director Gus Cruz featuring Cream Silk muse, Sam Pinto.
With the spectacular line-up of acts, the Cream Silk Hair Sonata promises to be a unique, entertaining and inspiring musical performance.
With Cream Silk, not only can strong hair be seen, now it can be heard.
https://www.facebook.com/creamsilkph
#CreamSilkHairSonata
#HairViolin