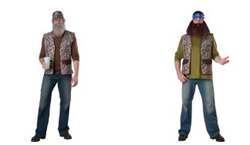 New Berlin, Wis. (PRWEB) October 17, 2013
One of the largest online retailer of Halloween costumes and décor, BuyCostumes.com is following the trends of Halloween 2013 with an enhanced selection of pop culture Halloween costume ideas. Costumes based on current events and popular TV shows, such as hit A&E reality series Duck Dynasty, have been selling especially well.
"People always love what's new, what's fresh," said Dana Palzkill, vice president of merchandising at BuyCostumes.com. "As a leading online retailer of costumes, we love being able to provide the highest-in-demand, most popular costumes year-round and putting smiles on peoples' faces."
Two Duck Dynasty-inspired costumes featuring the likenesses of cast members Willie and Uncle Si top BuyCostumes.com's list of best-selling pop culture costumes. The top five are rounded out by the character Walter White from recently-concluded AMC drama Breaking Bad, as well as costumes inspired by the 2013 federal government shutdown and VMA music awards performances.
"The success of these costumes thus far is testament to their popularity," continued Palzkill, "but funny Halloween costumes for men, women, and couples are always just as big of a hit as well."
The current best-selling funny costumes for men include sillier designs such as a black Morphsuit or inflatable sumo suit, while the best-selling funny costumes for women include characters like the green M&M and the Austin Powers Fembot. Popular funny couples costumes include Mr. and Mrs. Potato Head, bacon and eggs, and peanut butter and jelly.
Savvy shoppers are encouraged to sign-up for e-mails from BuyCostumes.com at http://goo.gl/gMf3t1 to gain exclusive offers.
In addition, to showcase people's passion for Halloween, BuyCostumes.com is running a How Do YOU Halloween contest. To enter, visitors create a Pinterest board of themselves with their desired costume or look for this year and pin it to the BuyCostumes.com How Do You Halloween? board. One winner will be chosen at random each week to win a $50 gift code. To enter, and for more details, visit http://shout.lt/cWIN.