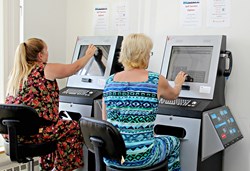 Horn and his team understood that, first and foremost, the kiosks needed to be easy to use.
Franklin, NH (PRWEB) October 23, 2013
Advanced Kiosks, one of the largest producers and innovators of self-service kiosks in the country, has entered into a four-year agreement with the Maine Department of Health and Human Services' Office for Family Independence (OFI) to manufacture and maintain 58 turnkey, self-service computer kiosks in 16 regional offices throughout the state. In addition to the hardware, Advanced Kiosks is also supplying project management and its entire line of software configured to interact seamlessly with OFI's system.
The self-service kiosk deployment is a flagship initiative of OFI's Eligibility Management Future State Program (EMFSP), a group tasked with revolutionizing the way Maine residents apply for and receive need-based benefits like food supplements, cash and medical assistance. Like most states, Maine has seen need skyrocket while staffing levels remain stagnant.
"Automating the process was really the only answer," said Howard Horn, Advanced Kiosks' president and owner. "We worked with the folks at OFI and Maine's Office of Information Technology to provide an all-in-one, turnkey solution that worked for them. We started with our Document Kiosk with scanner, added our standard VoIP handsets and privacy screen hardware options, and then installed Zamok, our new cloud-based, self-service management software."
EMFSP Program Manager Jeanne Garza did her homework when developing the initial request for proposals. After nationwide research, Garza reported, "Several states had automated parts of the application process, but there was no one tool that enabled clients to do it all – from completing applications to uploading supporting documentation to follow-up phone interviews." She applied for and was awarded partial funding for this cutting-edge project from the USDA Supplemental Nutrition Assistance Program Process & Technology Improvement Grant.
Due to the pioneering nature of the initiative, Garza's RFP included unique specifications and an ambitious timeline for deployment. Advanced Kiosks welcomed the challenge. All 58 kiosks were installed and operational less than 60 days after the contract was awarded.
"We chose Advanced Kiosks because they had a very clear and detailed proposal we felt could meet our needs," Garza explained. "Horn and his team understood that, first and foremost, the kiosks needed to be easy to use. User privacy and security of personal data were also top priorities."
The kiosks went live across the state this past July, allowing users to access and enter data on My Maine Connection, Maine's eligibility portal. Each kiosk features a full-size printer and document scanner for uploading paystubs, birth certificates and any other necessary verification. Scanned documents are automatically added to a client's application package and sent to OFI via a fast and secure connection. If users encounter any difficulties, all they need to do is pick up the VoIP phone mounted to the computer kiosk. Help is only a quick and easy phone call away.
About Advanced Kiosks:
Advanced Kiosks is a premier supplier of state-of-the-art computer kiosks, providing interactive turnkey solutions designed, engineered, manufactured and supported right here in the United States. Advanced Kiosks has many off-the-shelf, self-service kiosk designs and can also create custom-built hardware with fully customizable software for the most personalized self-service kiosk experience possible. Advanced Kiosks commitment to quality and service is unparalleled and backed by an unmatched three year, end-to-end warranty.
Sales Contact:
Kara Levasseur
Advanced Kiosks
(603) 865-1000 Ext. 115
Kara(at)advancedkiosks(dot)com