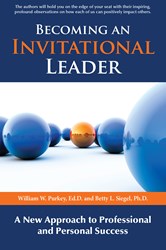 "What is essential in Invitational Leadership is not the skills we possess, the techniques we use, or the hours we spend working, but the way we balance and live our lives."
West Palm Beach, Fla. (PRWEB) October 22, 2013
Leadership experts William Purkey, Ed.D., and Betty Siegel, Ph.D., have found that there are principles that truly great leaders possess that make people actually want to follow them. Respect, trust, optimism, and intentionality are all key elements of this successful leadership style.
"Becoming an Invitational Leader" explains, "What is essential in Invitational Leadership is not the skills we possess, the techniques we use, or the hours we spend working, but the way we balance and live our lives."
"Becoming an Invitational Leader" differs significantly from past leadership books and theories because of its six overarching principles:
-People are able, valuable, and capable of responsibility, and should be treated accordingly.
-Intentionally creating a culture of respect, optimism, and trust promotes positive change.
-Leadership is a cooperative and collaborative alliance where everyone matters.
-Human potential, always apparent, is always there, waiting for the invitation.
-This potential can be best realized by leaders who intentionally invite the process.
-Motivation is intrinsic and Invitational leaders work to unleash this energy.
"'Becoming an Invitational Leader' is the indispensable guidebook for leaders at every level, in every organization, in every sector -- the guidebook for leaders of the future," says Frances Hesselbein, president and CEO of the Frances Hesselbein Leadership Institute.
The power of Invitational Leadership can be monumental. Believing that people have within themselves vast resources of strength, courage, and self-actualization, the Invitational leader finds ways to invite others to share in the leader's vision and look ahead to tomorrow's promise.
Humanix Books has more than four decades of experience in the areas of business, investment, finance, politics, lifestyle and health.
For more information contact Gina Sinnett at 561-459-5997, ginas(at)humanixbooks(dot)com.