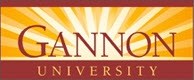 Erie, PA (PRWEB) October 21, 2013
Gannon University recently announced the appointment of two new deans who took their positions during the summer months. William L. Scheller, Ph.D., now leads the College of Engineering and Business and will oversee all academic programs within the college's disciplines, including the Online Master of Business Administration (MBA) and the Online Master of Public Administration (MPA) degree programs, and Steven A. Mauro, Ph.D., now leads the Morosky College of Health Professions and Science and will oversee all academic programs within the college's disciplines, including the Online Bachelor of Science in Nursing (RN-BSN) degree program.
Scheller and Mauro were found after a long and rigorous search for top leaders within their respective fields. Because a dean is a critical component to the success of students, faculty and the University as a whole, Gannon made sure to be extremely selective when making their decisions. Drs. Scheller and Mauro were chosen because of the wealth of knowledge and experience they will bring to the University's on campus and online programs.
Formerly, Scheller served as the department head of industrial and manufacturing engineering at Kettering University. He earned both a doctorate and a Master of Science in Industrial Engineering at the University of Nebraska. Mauro previously served as the chair of the biology department at Mercyhurst University.
Gannon University has been encouraging the professional and personal growth of its students since 1925. Today, through an innovative online platform, Gannon University delivers the most current knowledge and information to students – anytime, anywhere. Students are prepared for professional roles through some of today's most sought-after programs, such as:

For more information about Gannon University's online degree programs, click here or call 877.497.5854 and speak with an Admissions Representative.
About Gannon University:
Founded in 1925, Gannon University is a Catholic, Diocesan university offering nearly 100 academic programs, with a goal of providing a comprehensive, values-driven learning experience that emphasizes faith, leadership, inclusiveness and social responsibility. Gannon enrolls more than 4,000 academically talented and diverse students. Accreditation is by the Middle States Commission on Higher Education and programs are offered both on campus and online.