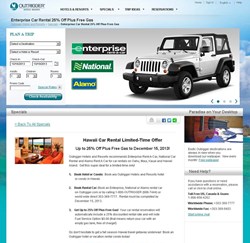 "This new partnership is a great fit for both organizations because our focus is the same – and that's on the customer," said Dan Wacksman, senior vice president, global distribution, Outrigger Enterprises Group
Honolulu, Oahu, HI (PRWEB) October 17, 2013
Two of the biggest names in Hawaii's travel industry have partnered to offer consumers attractive rates and world-class service. Outrigger Enterprises Group and Enterprise Holdings today announced an agreement that makes the multi-brand car rental company the preferred supplier for travelers who book hotel or condominium reservations on Outrigger.com or by calling 1-800-OUTRIGGER (688-7444). Consumers can choose from 32 properties on Oahu, Kauai, Maui and Hawaii Island.
Operating the Alamo Rent A Car, Enterprise Rent-A-Car and National Car Rental brands, Enterprise Holdings has locations at all major airports on the islands, with 50+ locations across the state of Hawaii and more than 8,100 locations worldwide.
Through this partnership, consumers can save up to 25% off at Alamo, Enterprise or National when they book a room reservation online at Outrigger.com or by calling 1-800-OUTRIGGER (688-7444) and then add a car to that reservation.
Complimentary Gas Offer for a Limited Time
To launch this new partnership, in addition to saving up to 25%, guests who book, stay and rent in Hawaii from now to December 15, 2013, can also receive a complimentary fuel service option (FSO) at Alamo, Enterprise or National. This means, renters can return their vehicle with an empty gas tank, free of charge. For details, go to Outrigger.com/enterprise-promo.
"This new partnership is a great fit for both organizations because our focus is the same – and that's on the customer," said Dan Wacksman, senior vice president, global distribution, Outrigger Enterprises Group. "The fact that Enterprise Holdings' brands earned the top three ratings on JD Power and Associates' 2013 Rental Car Satisfaction Survey speaks volumes about how the company does business. It aligns perfectly with our brand's culture rooted in warm island hospitality for our guests."
For hotel and condominium reservations go to http://www.Outrigger.com, contact your preferred travel agent, or call toll free 1-800-OUTRIGGER (1 800-688-7444) within the United States, Guam and Canada. Elsewhere call direct to 303-369-7777 (long distance charges apply). Or e-mail reservations(at)outrigger(dot)com
-30-
About Outrigger Enterprises Group
Outrigger Enterprises Group is one of the largest and fastest growing privately-held leisure lodging, retail and hospitality companies in the Asia-Pacific, Oceania and Indian Ocean regions and continues to expand its presence throughout these areas. A family-owned company with 66 years of hospitality experience, Outrigger runs a highly-successful, multi-branded portfolio of hotels, condominiums and vacation resort properties, including Outrigger® Hotels and Resorts, OHANA® Hotels and Resorts, Embassy Suites®, Holiday Inn® Best Western®, Wyndham Vacation Ownership® and Hilton Grand Vacations. Currently, Outrigger operates and/or has under development 45 properties with approximately 11,000 rooms located in Hawaii; Australia; Guam; Fiji; Bali; Thailand; Mauritius; Vietnam; and Hainan Island, China. Outrigger Enterprises Group also operates and develops hotel properties and hospitality-related retail and real estate opportunities for partners in Hawaii, the Pacific, and Asia. For on-line information, log on at http://www.outriggerenterprisesgroup.com and http://www.outrigger.com.
About Enterprise Holdings
Enterprise Holdings, through its regional subsidiaries, operates the largest fleet of vehicles in the world through a global network of more than 8,100 airport and neighborhood locations under the Enterprise Rent-A-Car, National Car Rental and Alamo Rent A Car brands. Its affiliate, Enterprise Fleet Management, provides full-service fleet management to companies and organizations with small- to medium-sized fleets. Other transportation services marketed under the Enterprise brand name include Enterprise CarShare, Enterprise Rideshare, Enterprise Car Sales and Enterprise Commercial Trucks. Enterprise Holdings is the largest car rental company in the world as measured by revenue, fleet and employees. Enterprise Holdings' annual revenues also place it near the top of the travel industry, exceeding all other rental car companies, and most airlines, cruise lines, hotels, tour operators and online travel agencies.
Release Number: 61/13