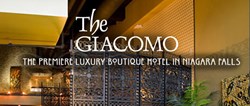 Niagara Falls, NY (PRWEB) October 18, 2013
The historic Giacomo Hotel at 222 1st Street in Niagara Falls, NY will hold its first Ghost Hunt on Friday, October 25th, 2013 at 7:00PM. Rev. Ellen Bourn and her team of experts will lead guests on a haunted tour of the historic Giacomo Hotel. Formerly The United Office Building, built in 1929, it has been restored but maintains its distinctive art deco exterior blended with a unique Mayan revival motif. We will be joined by mediums and paranormal investigators trained in specialized electronic equipment in hopes that guests will experience supernatural happenings throughout the building. Rev. Ellen Bourn "invites you to step into the Halloween mood as we try to make contact with those on the Other Side during a hauntingly psychic journey through the entire 1929 landmark." The price for this event is: $40.00 and will conclude with Gallery Readings by Rev. Ellen Bourn. Each ticket includes the investigation, a complimentary cocktail and live music reception. For more information or to reserve your ticket email: ellenbourn(at)roadrunner(dot)com
For more information about The Giacomo Hotel visit: http://www.thegiacomo.com.
About Ellicott Hospitality Company
Founded in 2013 as a branch of Ellicott Development Company, Ellicott Hospitality is a full-service hospitality management company offering expertise in hotel development, construction, operations and marketing. Ellicott Hospitality provides a range of enhanced services for partners and guests including leisure planning, corporate and executive meeting planning and services, relocation packages and airport services. The current hospitality portfolio includes everything from luxury boutique to extended-stay hotels. Ellicott Hospitality is consistently committed providing exceptional service to clients, guests, employees, and the community. Learn more at http://www.ellicotthospitality.com.