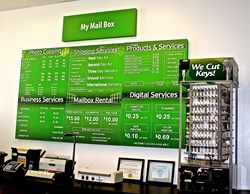 Keep putting one foot in front of the other and forge ahead!
Fox Lake, Ill. (PRWEB) October 22, 2013
Sara Douglas didn't see any empty building, she saw an opportunity. A chance to work alongside her son Chris to build a business that makes business and personal packaging and shipping convenient and reasonably priced: My Mail Box, opening Oct. 24.
Douglas is well-suited to the business coming from a background in printing sales, art and freelance photography. What makes her successful is her attitude and perseverance, and she offers this advice to new business owners: "You have to be very flexible and responsive. Keep putting one foot in front of the other and forge ahead!"
My Mail Box offers dozens of services beyond shipping and mailbox rental, including passport and ID photos, notary, copying, faxing, printing, key duplication, videotape to DVD transfer and computer rental time.
There will be a special ribbon cutting ceremony on Oct. 24 at 5:30 p.m. with representatives from the Chamber of Commerce. The community is invited to attend.
###
My Mail Box
Located at 1284 S. U.S. Highway 12, Fox Lake, Ill., My Mail Box is owned by mother and son Sara and Chris Douglas and offers the residents and businesses of Fox Lake convenient shipping and office services in a family atmosphere. For more information, visit My Mail Box online at mymailboxfoxlake.com.
Guidant Financial
Guidant Financial helps individuals create the life they want through innovative small business financing. They are the premier provider of Rollovers as Business Startups (ROBS). Guidant's services allow people from all walks of life the freedom to make time-sensitive investments using their existing retirement funds without taking a taxable distribution or getting a loan, in addition to offering traditional funding options such as SBA loans and unsecured credit. For more information on small business financing, visit Guidant online at guidantfinancial.com.