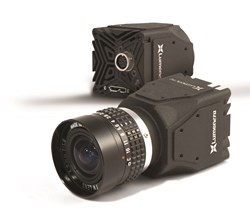 Ottawa, Ontario (PRWEB) October 18, 2013
Lumenera Corporation, a leading manufacturer and developer of high-performance digital cameras and custom imaging solutions for industrial, scientific, surveillance and astronomy markets, announced that all models of their Lt225 and Lt425 USB 3.0 camera series are now equipped with the latest Revision 3 image sensor from CMOSIS.
The CMOSIS Revision 3 sensor upgrade provides a number of performance improvements, including increased analog gain and elimination of the 'black sun effect', while maintaining previous functionality and features of Lumenera's Lt225 and Lt425 camera families. This sensor upgrade coincides with the latest release of Lumenera's LuCam Software and Software Development Kit (SDK), providing additional features such as user specified frame rate control, subsampling, thresholding, High Dynamic Range (HDR) mode, and an LED illumination correction.
In 2012 Lumenera was one of the first manufactures to introduce USB 3.0 cameras based on the second revision of CMOSIS sensors CMV2000 and CMV4000. "Building on the successful launch of those products, we are pleased to announce further improvements to that product line with the inclusion of the latest sensor technology from CMOSIS. Our development team is continually working to maintain the highest level of technical sophistication in our cameras", stated Dany Longval, VP of Worldwide Sales, Lumenera Corporation.
Lumenera's 2 megapixel Lt225 and 4 megapixel Lt425 were designed for high-speed streaming video and image capture using the latest USB 3.0 technology to ensure the fastest image delivery even at their largest resolution. Image captures can be synchronized using either a hardware or software trigger, and are complemented by 128 MB of onboard memory for reliable delivery of images. Achieve up to 170 fps at full resolution with Lt225 and 90 fps with the Lt425. The cameras are available in color, monochrome, and NIR versions. In addition, these Lumenera USB 3.0 cameras offer compact (40 x 40 x 60 mm) design for integration into such applications as traffic monitoring, automatic license plate recognition, inspection and motion control, astronomy, and life science applications such as digital pathology and slide scanning.
Contact info(at)lumenera(dot)com with your imaging requirements, or visit the Lumenera online at http://www.lumenera.com for more information on these products and its custom OEM imaging solutions.
About Lumenera
Lumenera Corporation, a division of Roper Industries, and headquartered in Ottawa, Canada, is a leading developer and manufacturer of high performance digital cameras and custom imaging solutions. Lumenera cameras are used worldwide in a diverse range of industrial, scientific, security and astronomy applications.
Lumenera solutions provide unique combinations of speed, resolution and sensitivity in order to satisfy the most demanding digital imaging requirements. Lumenera customers achieve the benefit of superior price to performance ratios and faster time to market with the company's commitment to high quality, cost effective product solutions. For further information about Lumenera, please visit http://www.lumenera.com or call 613-736-4077. To receive Lumenera press releases as they are issued, contact us at marketing(at)lumenera(dot)com.
###