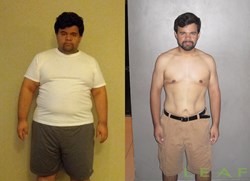 David took the brave and uncomfortable first step and simply said, 'help me.' It was real. It was emotional. And I knew he had the right mindset to succeed.
Los Angeles, CA (PRWEB) October 23, 2013
While every weight loss journey is often tough, the first step is typically the hardest to take. Nevertheless, the ability to take that step makes all the difference. It was only 6 months ago that David Diaz embarked upon a journey to lose 100 pounds with LEAF Lifestyle.
Luke Sniewski, LEAF Founder/CEO, recalls the beginning of Diaz's journey. "David wanted to focus his life on health. He found himself in life situations that many of us get stuck in and don't know how to get out of or who to ask for help. David took the brave and uncomfortable first step and simply said, 'help me.' It was real. It was emotional. And I knew he had the right mindset to succeed."
Ready to embark on his journey, Diaz turned his life over to LEAF's Lifestyle Transformation program. The program focused on the 6 principles necessary for a healthy lifestyle:
1. Real Food – Diaz incorporated a healthy diet catered to his individual biochemistry and focused on establishing healthy eating habits.
2. Movement – Aside from strength & conditioning with LEAF Founder/CEO Luke Sniewski, Diaz also incorporated yoga with Claire Robbie, Founder of Jack & Olive Retreats. The program also emphasized daily movement, which translated into David riding his bike to work or doing a hike after work.
3. Rest & Relaxation – When life, work and the training got too intense, the program eased up and supported Diaz, allowing him to recover, stay in control, and break through plateaus.
4. Lifelong Learning – Diaz was intimately involved in the Lifestyle Transformation, reading and researching the various changes offered by the program. He was taught to be his own health and wellness guru, understanding that "health is a matter of reassessing one's own priorities."
5. Community – Diaz surrounded himself with positive individuals that supported his goals and often times participated in healthy activities, like Sunday Hike Club.
6. Love - Most important, Diaz learned the importance of loving himself. He utilized LEAF strategies and ensured that he was his biggest supporter during the challenging moments.
After following the program and transforming both his body and his lifestyle, Diaz has rekindled a new passion for life. "It was a truly enlightening experience the first time I was doing a hike and I thought to myself, 'this is getting easier because I am getting fitter.' It's a wonderful feeling, and one I don't ever want to let go of it."
The emotional and inspiring video of David's journey is available at http://www.leaflifestyle.com/david-diaz-lifestyle-transformation/.
LEAF Lifestyle is a community of health professionals and experts who want to help others on their path towards optimal health and wellness. LEAF focuses it's lifestyle recommendations on Longevity, Energy, Athleticism, and Function. In addition to providing expert opinions, LEAF also offers videos, online programs, coaching and e-books. Visit http://www.leaflifestyle.com for more details.
To schedule an interview with David Diaz or Luke Sniewski, or for media inquires, please contact: Kelley Coughlan, Melrose PR, Kelley(at)melrosepr(dot)com, (310) 260-7901, http://www.melrosepr.com.