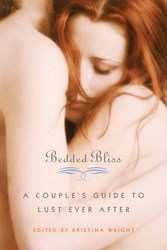 "In Bedded Bliss, Kristina Wright offers brief but powerful tips, followed by super sexy erotic stories that show you just how hot being in an LTR can be."—Dr. Charlie Glickman, author of The Ultimate Guide to Prostate Pleasure
(PRWEB) October 18, 2013
Kristina Wright, who penned the just-released Bedded Bliss: A Couple's Guide to Lust Ever After (Cleis Press 2013), was featured in Redbook for her expertise in keeping long-term love intimate and romantic.
In an article focusing on the best ways to stay connected in the bedroom and amp up one's love life, Kristina offered sound and practical advice:
"Create a list of things you haven't tried together and talk about it as you work your way through it."
As Redbook explains, "Sometimes just talking about racy stuff can get you revved up." Kristina Wright expands upon this idea that open communication about desire can re-vamp intimacy in Bedded Bliss.
What people are saying about Bedded Bliss:
"Top 10 most provocative books."
—The Daily Loaf
"In Bedded Bliss, Kristina Wright offers brief but powerful tips, followed by super sexy erotic stories that show you just how hot being in an LTR can be. Unlike a lot of erotic fiction, these tales don't hide from the questions and concerns that real people have. Instead, they show how couples can respond to whatever life brings them and still have a great time in bed. And the suggestions for overcoming your hurdles and connecting with your partner are just right!"
—Charlie Glickman, PhD, author of The Ultimate Guide to Prostate Pleasure
It's fairly easy to fall in love (or lust), but keeping that passion hot and heavy after twenty years of marriage can get tricky. Kristina Wright has two toddlers and a red-hot marriage, and there's no one better suited to helping other couples make lust last. Bedded Bliss: A Couple's Guide to Lust Ever After pairs hands-on advice for long-term lovers with steamy tales to inspire couples to enact their own erotic adventures. Each chapter begins with "sensual suggestions" for keeping in touch—literally! Read real advice and stories from couples, who have a combined total of a whopping 235 years of long-term relationship experience, and find out what works for them to keep their fires burning steady and hot. Romance writer and editor Wright re-invents the sexuality genre, presenting a guide that simultaneously educates and entertains. Bedded Bliss is a treasure trove of resources for couples to ensure that monogamy will never again mean monotony.
Specialized sections include:

Tips and tricks for keeping the passion alive on a busy schedule
Practical advice on long-distance love
Lust after pregnancy and parenthood: how to feel attractive and find the time
Keeping long-term love fresh and exciting
Real stories of red-hot monogamy to inspire and entice
Kristina Wright (kristinawright.com) is an award-winning author whose erotic romance fiction has appeared in over seventy-five anthologies. She is also the editor of several Cleis Press anthologies of romance, including Best Erotic Romance 2013 and Duty and Desire: Military Erotic Romance. Kristina teaches both English and Humanities at the college level. She lives with her family and menagerie of pets in Chesapeake, VA.