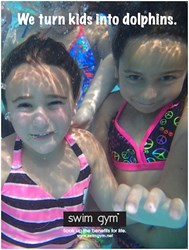 Miami, FL (PRWEB) October 19, 2013
Swim Gym a local aquatic education school, has applied for a $250,000 grant from Chase as part of a newly launched program, Mission Main StreetSM Grants. Swim Gym must submit a questionnaire outlining a business plan that will result in growth of the business and receive at least 250 votes to be eligible for a grant. Full eligibility requirements are available in the Program Rules https://www.missionmainstreetgrants.com/rules . Customers, fans and community members can show support for Swim Gym by voting at https://www.missionmainstreetgrants.com/business/detail/35526 using Facebook Connect. The voting deadline is November 15, 2013 and grant recipients will be selected by expert panelists.
We would allocate the funding to 4 different investments that will help our business grow and generate awareness about Education in aquatics: - Public Service Announcements around South Florida that will make a push to eliminate drowning. - Invest in marketing material that helps generate awareness about the opportunity for professionals to learn our teaching methodology to train more instructors to meet demand. - Advertising Campaign to drive more sales - An additional Full Time Staff Member.
Through Mission Main Street Grants, Chase will award $3 million to small business across America. All businesses that apply for a grant and meet the eligibility requirements will receive a special advertising offer from Premier Sponsor, Google. In addition, the 12 grant recipients will be eligible to receive a trip to Google for an exclusive small business marketing workshop with Google experts and a Google Chromebook Pixel laptop.
The 12 grant recipients will be announced in January 2014.
Consumers can show support by voting for Swim Gym at https://www.missionmainstreetgrants.com/business/detail/35526 using Facebook Connect before the voting deadline on November 15, 2013. For additional details about Mission Main Street Grants visit http://www.MissionMainStreetGrants.com.
About Mission Main Street Grants
Demonstrating an ongoing commitment to small business, Chase launched Mission Main Street Grants, a program that will award 12 grants of $250,000 to small businesses across America. By completing a business profile, a grant questionnaire, and meeting relevant eligibility requirements, small businesses will have access to special offers from the Premier Sponsor, Google. Chase is committed to helping small businesses so they can take big steps for their business and community.
About Swim Gym
Since its inception in 1984, swim gym has been recognized, around the world, as a leader in the field of aquatic education. Coach Robert Strauss, director of Swim Gym, has taught in Miami, Florida since 1973. By 2011 more than 45,000 students, 80% non-swimmers when they first started their lessons, have become safer, and competent in the pool and in the ocean. Coach Strauss' experience is clearly reflected by every teacher trained with swim gym innovative cutting edge techniques; everyone has the passion and excitement required in a program in which the progress of every participant is measurable. Every staff member will create a friendly environment for their students, using pedagogical sound teaching practices that result in a successful swimming experience. Regardless of age, from infants to senior citizens, everyone walks away with safety, fitness, friends and fun!