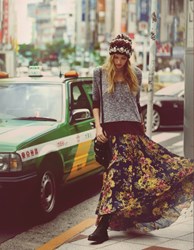 Philadelphia, PA (PRWEB) October 21, 2013
Specialty clothing brand Free People will open two dedicated retail locations in Tokyo, Japan on October 25th. The openings will take place in collaboration with World Co., Ltd., a Japanese company that has partnered with Urban Outfitters Inc., the parent company of Free People. The new retail boutiques are set to include a multi-level space in Tokyo's Harajuku district, as well as a shop in the popular Shinjuku destination, Lumine Est. The shops are the first Free People locations outside of North America, as well as the first in Asia for all brands of Urban Outfitters, Inc.
To celebrate the launch, Free People headed to Tokyo to shoot models Elsa Hosk and Eimi Kuroda for the brand's October catalog. Titled 'Lost in Tokyo,' the campaign is lensed by famed photographer Guy Aroch who captures the two on their adventures throughout the city. The book represents the adventurous spirit of the Free People woman, exploring new places and spaces with a style all her own.
In Harajuku, the Free People clothing boutique will offer Japanese fans the chance to shop the assortment of apparel, accessories, outerwear, and intimates in a setting as unique as the brand's retail locations in the US and Canada. A new wholesale showroom will open next door to the boutique, and will become the second dedicated international showroom following the opening of the brand's London location this past June.
Free People's second location at Lumine Est is set to open the same day. The shop will also feature a varying assortment of the brand's unique apparel specializing in dresses, statement bottoms, intimates, and layering pieces in a truly Free People environment with eclectic décor from around the world.
"We are very excited to bring the Free People brand to Japan," says David Hayne, Free People's Chief Operating Officer. "We have indications from pop-up shops earlier this year, as well as from existing wholesale and ecommerce sales, that the Japan consumer will respond favorably to our product offering and lifestyle shopping experience. We're looking forward to the synchronized openings on October 25th to test this hypothesis."
"The Free People expansion into Japan is a critical component in our growth strategy to increase brand awareness on a global scale and deepen our customer relationships," says Krissy Meehan-Mashinsky, Free People Wholesale Managing Director. "Launching the retail locations in conjunction with the wholesale showroom in one of the world's greatest cities makes it an extremely exciting time for the brand. I look forward to developing our business further with such experienced and dedicated partners as World Co., Ltd."
Free People's Harajuku boutique will be located at 6-16-23, Shibuya-ku, Tokyo. The Free People wholesale showroom will be located at 6-16-26, Shibuya-ku, Tokyo. Free People at Lumine Est will be located at Shinjuku, 1st Floor 3-38-1, Shinjuku, Shinjuku-ku, Tokyo. Japanese fans can stay up to date on the latest arrivals and happenings on Facebook at http://www.facebook.com/FreePeopleJapan and on Twitter at @FreePeopleJapan.
###
About Free People
Free People is a specialty clothing brand featuring the latest trends and vintage collections for women who live free through fashion, art, music, and travel. The eclectic look consists of quality apparel, shoes, and accessories that invoke attributes of femininity, spirit, and creativity with its design. Free People is distributed globally via direct channels including the Free People Global site and Free People UK site, as well as specialty boutiques, top department stores, and the brand's free standing retail locations in the U.S. and Canada.