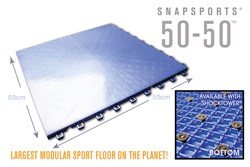 "The 50-50 will have a huge impact in the volleyball world. A floor guaranteeing 70% fewer seams ,will ensure a much safer surface for athletes during high impact play." - Matt Williams, AAU Governor, Pacific District
Salt Lake City, UT (PRWEB) October 19, 2013
SnapSports® Athletic Surfacing has proven that 'Size Does Matter' with the introduction of their newest modular surfacing, 50-50™. Now the largest available module on the market, the 50-50 is set to be the pinnacle of indoor sports surfacing, especially for competitive volleyball at every level of sport.
"The 50-50 will have a huge impact in the volleyball world. A floor guaranteeing 70% fewer seams, will ensure a much safer surface for athletes during high impact play while continuing to exhibit the top rated performance SnapSports is known for. The ability to assemble and disassemble courts at a faster rate will also be a huge asset to clubs worldwide." – Matt Williams, AAU Governor, Pacific District
The half meter (Sq2) size of the 50-50 guarantees over 70% fewer seams than any competitor sport tile, making for a considerably more consistent surface during competitive play. The largest module in the industry provides the fastest deployment of any suspended modular sport surface, a SnapSportability™ that is ideal for tournaments, athletic showcases, and non-permanent floors. Conformance to international play standards certifies that this product will be available worldwide.
The 50-50 is also available with SnapSports new dual-stage ShockTower® Technology, a full suspension floor system engineered with resilient shock absorbers within the sub structure. An improvement upon the first generation of ShockTower, the dual-stage shock provides a primary and a secondary level of "give" designed to reduce the vertical impact on athlete's joints and extremities. In combination with the ShockLock® lateral impact technology, the 50-50 surfacing makes play safer, allowing athletes to play for longer without fatigue or injury.
"SnapSports consistently develops game changing sports products. We developed the ShockTower, an innovation greatly reducing the force sustained by athletes and eliminating the need for underlayment. Now, our newest product, the 50-50 surface, utilizes that ShockTower technology in the industry's largest module. We see this product having great success in our International market and expect that many will find this far superior to the floors they play on now." - Robert Dougherty, SnapSports International Sales Manager
SnapSports® Athletic Surfacing, is the industry leading manufacturer and supplier of sports flooring. SnapSports offers top rated, multi-patented sports surfacing, engineered specifically with safety and performance in mind.
Based in Salt Lake City, Utah - The team at SnapSports have been engineering, manufacturing, and providing the world's leading outdoor multi-courts, basketball courts and indoor sport surfaces for nearly four decades! As the pioneers of the modular sports surfacing industry you play on today, the SnapSports team continues to develop the most advanced, multi-patented, modular sport surfacing and outdoor game courts for top athletes and families all over the world. With unparalleled experience and a high performance product line, SnapSports is the industries undisputed champion. SnapSports manufactures in their 150,000+ square foot ISO 9001:2008 Quality Certified operations 24x7 and is supported by an authorized global network.
SnapSports is the official sport surface provider for the United States Futsal Federation (USFF), AAU 'Jam on It' Basketball, Volleyball Festival, Special Olympics, AAU 'All Under One Roof' Basketball, Veteran Wheelchair Games, Colorado Crossroads, National Collegiate Roller Hockey Championships, AAU 'Big Mountain Jam', World Police & Fire Games and USA Team Handball. In addition, SnapSports is an approved partner of the IHF and a FIBA Technical Partner, the world's governing body for the sport of basketball.