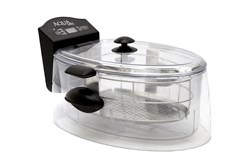 "We are a group of friends that love food!" said Aqua Chef Clarity™ C.F.O. ("Chief Foodie Officer") Anna Pacheco. "We're not top chefs, but we believe that everyone should be able to use science to create amazing dishes at home."
Vista, California (PRWEB) October 18, 2013
In an effort to bring an attainably priced and complete Sous Vide cooking package to home cooks everywhere, a group of friends and self-proclaimed "foodies" in the San Diego area of Southern California have launched a Kickstarter campaign for the AquaChef Clarity™, a revolutionary cooking appliance that transforms everyday food into gourmet-quality meals.
It is compact, quiet, uses little energy and is easy to use. Cuts of meat that are often difficult to prepare, such as flank steak and brisket, emerge fork-cutting tender. And with the AquaChef Clarity™ and its Sous-Vide method of preparation, it is virtually impossible to undercook or overcook food.
The innovative AquaChef Clarity™ makes it simple for home cooks of all skill levels to prepare mouthwatering meats, fish and other items. Sous Vide (pronounced soo-veed) is French for "under vacuum." So, in a foolproof system that eliminates guesswork, ingredients are placed in a vacuum-sealed bag and submerged in the water-filled oven, which is preset to the final and most desirable consumption temperature. With a push of a button, the Clarity's Vacuum System removes the air from the bag and locks in the food's flavors, nutrients and moisture. The bag is placed in the Clarity's water bath and it cooks until the user is ready to eat it.
Featuring an optically clear, high polish thermal-resistant and food-grade polycarbonate for the cooking bath, the AquaChef Clarity™ is designed so that users can watch their food evolve into perfectly cooked meals.
"We are a group of friends that love food!" said Aqua Chef Clarity™ C.F.O. ("Chief Foodie Officer") Anna Pacheco. "We're not top chefs, but we believe that everyone should be able to use science to create amazing dishes at home. Let's face it. Not all of us have the time or resources to go to cooking school or purchase expensive gourmet appliances. The AquaChef Clarity™ was conceived for those of us that want Sous Vide made simple."
The AquaChef Clarity™ is expected to be available in early 2014 at a suggested retail price of around $300 for the complete Sous Vide package, or almost half the cost of other sous-vide systems found at pricey kitchen stores. At this price, the Clarity will also come with a handheld vacuum system, a set of vacuum bags and a cookbook.
With Kickstarter, there are several pledge levels available. These range from $10 for the AquaChef Clarity™ Sous Vide Cookbook, all the way to $199 for the complete package.
"Sous Vide is starting to hit the food market in a big way, but we want the AquaChef Clarity™ to be the first to offer a complete and affordable system," adds Pacheco. "We are far along into production, but we need Kickstarter to get the first supply into the hands of consumers. The cost of manufacturing and shipping is high, so we need help in providing everyone the opportunity to eat great food at home that would cost an arm and a leg at an upscale restaurant."
The Physics of Food
The Sous-Vide method was originally described in 1799 and was re-discovered in the mid-1960s as an industrial process to preserve food. It was essentially reinvented in the mid-1970s by chef Georges Pralus of the famed Restaurant Troisgros in Roanne, France, who applied the method to cooking foie gras. The technique enabled him to retain the fat content and improve the texture of the goose and duck liver. Others followed, experimenting with different foods and recipes, and the method is now used in many high-end restaurants and by chefs such as Paul Bocuse, Thomas Keller, Charlie Trotter and John Tesar.
With conventional high-heat cooking such as roasting or grilling, the food is exposed to heat levels much higher than the final and most desired internal temperature. In fact, the food must be removed from the high heat prior to reaching its internal temperature goal, the timing of which is a natural talent, a professional learned skill, or a futile attempt that consistently leads to overcooked pot roast.
What's more, with foods such as chicken and fish, a sufficiently high internal temperature is critical to food safety. Because the AquaChef Clarity's™ cooking bath is set at the target internal temperature, there is never a doubt about producing a perfectly cooked recipe. The system also guarantees that irregularly shaped or thick items are cooked evenly throughout. The AquaChef Clarity™ is perfectly suited for the growing trend of "slow food," or items cooked over long periods of time at low temperatures.
At high temperatures, the proteins in meat can be denatured, which means the texture toughens as moisture evaporates. At lower temperatures, cell walls in the food—and in particular with vegetables—do not burst. With Sous Vide, vegetables can be cooked below boiling point, so that they don't become extremely soft and too tender, and instead retain a firm and somewhat crisp texture. Because the food in the AquaChef Clarity™ has been cooked in a sealed bag and is not exposed to air, it can be refrigerated and stored for a considerable period.
The AquaChef Clarity™ Kickstarter campaign is available for pledging now through November 16, 2013.
"We are huge fans of Kickstarter and everything it represents as a dream fulfilling social media site," said Pacheco. "Those who support us with a generous pledge will start cooking like they never imagined with the Clarity."
For more information, please visit http://www.AquaChefClarity.com.