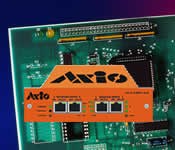 We are excited to expand Garland Technology's customer base worldwide.
Buffalo, NY (PRWEB) October 22, 2013
Garland Technology Network Test Access Points (Network TAPs) create efficient and secure networks, working in conjunction with enterprise network monitoring tools. AxioTAP technology provides secure, reliable, non-intrusive access to the data circulating on computer networks. For several years AxioTAP products have provided efficient network access solutions to many customers around the world. In order to continue the development and manufacturing of these products while enhancing quality and performance, Garland agreed to purchase AxioTAP from 1stmarkets, Inc. to guarantee the 'made in America' innovation and workmanship of the unit. 1stmarkets' customers and partners will benefit of a wider product range going from 10/100 MB solutions to 40 GB and more, of a more competitive solution, improved quality as well as a better customer support.
"There are many vendors in the networking arena, but very few are specialized in data access and can provide innovative products for the Network Access Technology marketplace. Networks are continuing to expand in size and speed. It is critical to have proper Network Access that guarantees 100% visibility to your enterprise networks. We invite our customers and partners to trust Garland Technology as they used to do it with us. From now on, 1stmarkets will step into a partner and ally position." said Marius O. Bratan, the President and CEO of 1stmarkets, Inc.
"We are excited to expand Garland Technology's customer base worldwide. We will continue to service the customer base and provide the support and service they expect. We have expanded our Network TAP product line supporting up to 100 Gigabit with our high density datacenter designs. We are proud to continue to grow our business with quality products, like AxioTAP, that are designed, manufactured, and supported in the USA." said Christopher Bihary, CEO and Co-Founder of Garland Technology LLC.
About 1stmarkets, Inc. – AxioTAP division – http://www.axiotap.com
1stmarkets, Inc. is a global supplier of consulting services and innovative IT technology. AxioTAP™ a division of 1stmarkets provides intelligent traffic access systems for enterprise, government and service provider clients. Founded in 2003, 1stmarkets AxioTAP's mission was to ensure failsafe, secure, reliable access to network traffic as well as provide protection for in-line devices against system or power failure for increased network performance, network productivity and reduce network monitoring operating costs. AxioTAP solutions have been the favorite choice for customers around the world due to ease of use and excellence in traffic access and monitoring.
About Garland Technology LLC. – http://www.garlandtechnology.com
Garland Technology provides network visibility solutions for the enterprises. Every enterprise network needs total visibility for security, network visualization, network performance monitoring, forensics, deep packet inspection, data leakage, compliance, and much more. Garland Technology offers the foundation to all Network Monitoring by delivering uninterrupted network access to all your data. Garland Technology's Network Access Solution includes full line of Network TAPs, Aggregation TAPs, Bypass TAPs, Regenerating TAPs, and the Filtering Aggregation Load Balancing. Garland Technology's Network Access Products are available for 10/100/1000, 1 Gigabit, 10 Gigabit, 40 Gigabit, and 100 Gigabit local and wide area networks. For additional information please visit http://www.garlandtechnology.com.
1stmarkets, AxioTAP, AXIO, Garland Technology, among others, are trademarks or registered trademarks in the United States and certain other countries of 1stmarkets, Inc. and respectively Garland Technology. Additional company and product names may be trademarks or registered trademarks of other individual companies and are respectfully acknowledged.