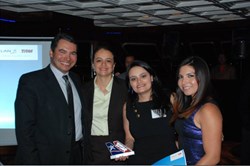 New York (PRWEB) October 23, 2013
Fareportal, a travel technology company, was recently honored as a recipient of the MASTERLAN award by LATAM Airlines for its sales performance in 2012. The award was presented to Carolina Serrano, Director of Supplier Relations at Fareportal, at a reception held on September 25, 2013 at the World Yacht at Pier 81 in New York. This is the fourth time that Fareportal has won the annual award.
"We are honored to be recognized by LATAM for the fourth consecutive year," said Werner Kunz, Chief Operating Officer at Fareportal. "We value our strong partnership with LATAM Airlines Group, and congratulate the Fareportal team on their hard work over the past year."
Fareportal and its affiliate Travelong have been recently recognized for outstanding work, including being ranked 11 on Travel Weekly's esteemed 2013 Power List and receiving three 2013 Magellan Awards for marketing efforts in 2012.
About Fareportal
Fareportal is an industry-leading travel technology company that develops innovative tools for leisure and business travelers, partners and suppliers. Its range of products includes affordable travel deals across the mobile and social web, and advertising solutions that deliver value and results. With a portfolio of brands including CheapOair.com, CheapOair.ca, CheapOair.co.uk, CheapOstay and OneTravel, Fareportal makes booking and planning travel easy and hassle-free for millions of customers every year.
About LATAM Airlines Group
LATAM Airlines Group S.A. is the new name given to LAN Airlines S.A. as a result of its association with TAM S.A. LATAM Airlines Group S.A. now includes LAN Airlines and its affiliates in Peru, Argentina, Colombia and Ecuador, and LAN Cargo and its affiliates, as well as TAM S.A. and its subsidiaries TAM Linhas Aereas S.A., including its business units TAM Transportes Aereos del Mercosur S.A., TAM Airlines (Paraguay) and Multiplus S.A.
This association creates one of the largest airline groups in the world in terms of network connections, providing passenger transport services to about 150 destinations in 22 countries and cargo services to about 169 destinations in 27 countries, with a fleet of 310 aircraft. In total, LATAM Airlines Group S.A. has more than 51,000 employees and its shares are traded in Santiago, as well as on the New York Stock Exchange, in the form of ADRs, and Sao Paulo Stock Exchange, in the form of BDRs.