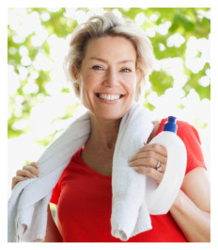 Vein disease can be prevented with proper exercises.
Tampa, FL (PRWEB) October 20, 2013
The Premier Vein Institute is launching a new social media campaign to educate the public on the preventive effect of exercise on vein health. It is possible to look younger and healthier without the unpleasant appearance of varicose veins and spider veins. The effects of vein disorders are not just cosmetic, however. Varicose vein disease can lead to swollen ankles, discoloration of the skin, leg ulcers and leg pain.
Dr. Obinna Nwobi, vein care specialist and Director of the Premier Vein Institute, reminds the public that, "It is important to keep your legs moving. Regular walking contracts the calf muscles which keeps the blood in the veins circulating. If your work involves long periods of sitting or standing, I suggest taking occasional exercise breaks by doing calf raises and high knee raises." Calf raises consist of standing on the toes and balls of your feet. High knee raises are performed by raising your knee as high as it will go and stepping forward and repeating with the other knee. Other measures to maintain vein health include weight control, avoiding the use of constricting clothing, and quitting smoking.
In October, the vascular specialists at the Premier Vein Institute will be using social media including Facebook and Twitter to encourage the public to take precautions against vein disease and seek early treatment for vein disorders.
For more information, visit:
http://www.premierveins.com/
1-888-VEIN-CARE
Varicose Vein Treatment Options
Varicose veins and spider veins are extremely common in men and women. While spider veins are very small, reddish veins on the surface of the skin, varicose veins are much larger, bulging, tangled veins that may appear bluish in color. Men and women suffer from varicose veins, although women are much more likely to have them.
Today, patients have access to a number of effective varicose vein treatment options. Advancements in technology and medicine have led to the development of effective, minimally invasive treatments that produce optimal results with few side-effects or downtime. These treatments include sclerotherapy, radio frequency ablation, phlebectomy, and endovenous laser ablation.
About the Premier Vein Institute
The Premier Vein Institute is nationally recognized in the treatment of vein disease. Dr. Nwobi provides a customized approach to each patient based on his or her history, physical exam and ultrasound findings. The minimally invasive techniques that he offers include: sclerotherapy, ultrasound-guided sclerotherapy, microphlebectomy, and endovascular laser therapy.