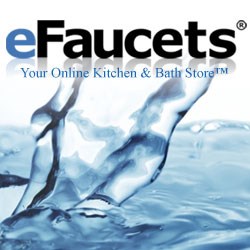 "We look forward to growing our business with top partners like Kohler, Moen and Delta Faucet"
Racine, WI (PRWEB) October 22, 2013
eImprovement.com Stores, an online home improvement retailer with storefronts such as the award winning eFaucets.com, announced today that it has signed an agreement with First Business Capital Corp., which will provide the e-retailer and distributor financing of up to $3 million. The financing is in the form of a revolving line of credit facility which extends until 2015.
"The financing will be used to expand warehouse operations as well as to help grow the company's business", says Michael Fox, the company's Chief Operating Officer. "We look forward to growing our business with top partners like Kohler, Moen and Delta Faucet."
The agreement replaces a previous $575K financing agreement Martz Supply had with Wells Fargo & Co.
In addition to expanding warehouse inventory, eFaucets.com is focusing on improving its customer experience. To do so the company is giving its website a full design makeover and adding numerous new features like Google Trusted Stores, Amazon payments, shopping cart remarketing, and lightbox email acquisition technology.
"eCommerce is constantly changing and with this new infusion of Capital we are 100% focused on evolving the business with the future in mind.", says Nick Fox, CTO/Co-Founder. "To do so we are focusing on increasing our partnerships with our best brands who can keep up with industry and consumer demands. This includes Inventory, Product Availability, Shipping/Delivery Times, Video, Marketing Content, Branding and Marketing Partnerships. Our customers are Savvy, Stylish and on the go, so we need to re-design our entire process around them."
About eImprovement.com Network Stores
Headquartered in Racine, WI, eImprovement.com, LLC is a leading online home improvement retailer with web stores that include the award winning eFaucets.com which is the online leader of faucets, sinks, fixtures and accessories for the kitchen and bath. It also operates Martz Supply in Denver, CO which distributes major brands such as Kohler, Sterling, Rohl, Brizo, Moen, Delta Faucet, Hansgrohe, and Grohe. This includes a Denver Showroom. eFaucets.com recently became one of KOHLER and Moen's few exclusive Authorized Internet Retailers. For further information, visit eImprovement.com.
About First Business Capital
First Business Financial Services is a $1.2 billion Wisconsin-based bank holding company that specializes in focused financial solutions for businesses, key executives, and high net worth individuals through its operating companies. It is the 2nd largest Wisconsin-based commercial bank holding company listed on NASDAQ or the NYSE. First Business Capital Corp. is a leading source of specialized lending for small- to mid-market companies with credit requirements of $1,000,000 to $7,000,000 and more. It provides revolving lines of credit and term loans for acquisitions, debt restructuring, confirmation financing, and rapid growth financing. For additional information, visit firstbusiness.com.