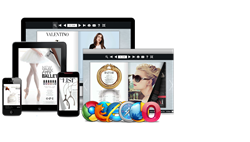 (PRWEB) October 21, 2013
Recently Fliphtml5, an organization offering flipbook creator tools, has introduced its free Html5 flipbook creator, and this Flip Html5 software is one of the best programs in the market for converting various files to flip books.
This Html5 based software comes in three different varieties; the basic version, the gold version and the pro version. The basic version, having all the essential features of premium versions, is available for individuals at no cost. All the variations make professional digital books and are equipped with an easy to use interface. The basic software can convert PDF files to flip books, while the other versions can convert MS Office, image files and OpenOffice files to flip books too.
With the Flip Html5, clients can make special content for their products' promotion. The sensible page turning impact, pre-designed arrangements and skins and other characteristics make this app a good choice for organizations that seek for low cost solutions of online marketing.
In addition to this, the software also offers online distribution of e-books created across the web. The output files can be made into different types to facilitate sharing across web and portable devices. In order to give the product a try, users are welcome to download the basic version at no cost. For advance users, the pro version is recommended.
Fliphtml5.com is an organization offering Jquery based and Html5 based flip book creator apps for small and medium sizes organizations.