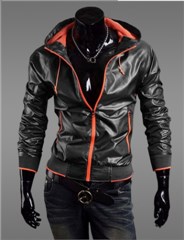 With fashion trends constantly changing, we always come up with innovative designs and features.
(PRWEB) October 21, 2013
4leafcity.com is a leading dress company that is committed to designing and manufacturing high quality trendy clothes for the people worldwide. Recently, the company has launched its promotion of men's winter jackets. Moreover, the company promises that it will donate 20% of the promotion's sales revenue to the poor students in China.
Based on the CEO of the company, the promotion is specially launched to attract more new customers. Now, all the winter jackets are available at discounted prices, up to 50% off. The special offer is valid until Oct. 30, 2013. The first 100 customers who register online on its website can get an extra discounts for their orders.
"We take pride in introducing our new designs to more people," says Ms. Ella, the sales director of the company. "It is time for many people to buy men's winter jackets now, and we suggest that they check our website before making a decision."
4leafcity.com is committed to offering its customers exceptional customer service, providing a wide range of fashion accessories, women's dresses and men's coats. The company is famous for a great number of award-winning designs, and the company is looking forward to a greater success in the years ahead.
About 4leafcity.com
4leafcity.com is one of the leading providers of women's dresses. The company carries a complete line of women's dresses, as well as elegant men's dresses and various accessories for men and women. For a full list of services and to learn more about 4leafcity.com, please visit http://www.4leafcity.com/product-men-s-jackets-009003003.aspx.