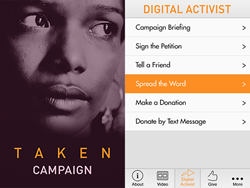 "Digital Media is giving us all a great opportunity to become digital activists. Download this app to get involved, make a difference and become a modern day activist."Marc CareyEuropean Marketing DirectorHard Rock International
London, UK (PRWEB UK) 23 October 2013
Available now on the Apple App Store.
To download the app: https://itunes.apple.com/us/app/taken-campaign/id717179884.
The Taken Campaign app, launched by Jubilee Campaign, allows users to become a 'Digital Activist' and provides the resources, tools and information to take action against trafficking. The Taken Campaign launches in association with award winning photojournalist Hazel Thompson's ground-breaking new ebook Taken.
"Digital Media is giving us all a great opportunity to become digital activists. Download this app to get involved, make a difference and become a modern day activist."
Marc Carey
European Marketing Director
Hard Rock International
This app features:

8 exclusive behind-the-scenes videos detailing Hazel Thompson's undercover investigation
A petition to support important legislative changes
Facebook, Twitter and social media integration to help Spread the Word
Detailed briefing paper will help explain the issues
Methods to Support organizations which are directly engaged on the ground
Donate to the rescue mission for girls and women in Mumbai's red light district
and more!
Award winning photojournalist Hazel Thompson spent over ten years investigating Mumbai's sex trade and during this time she spent more than 6 months living in the Kamathipura district, gaining unprecedented access into one of the largest sex industries in Asia. The Taken Campaign is a direct result of Hazel's investigation and this app provides a toolset for 'Digital Activists' to take action against trafficking and sex slavery.
The Taken Campaign app was launched at a meeting in Parliament to mark Anti-Slavery Day (October 18, 2013). The meeting was hosted by Lord Alton and Fiona Bruce MP who said, "This is the first time a human rights App has been launched in the House of Commons. I hope people will download it and get involved."
The Taken Campaign App is available free worldwide from the Apple App Store, available for iPhone, iPad and iPod Touch, requires iOS 4.3 or later.