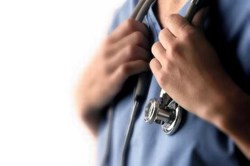 While we are vigilant against hospital acquired infections, it is important that we bear in mind that GP surgeries can carry the same risk of exposure."
Bolton, UK (PRWEB UK) 25 October 2013
As reported by the Manchester Evening News, a GP has been told urgent improvements must be made, after his surgery in Sale, Manchester, failed to meet 13 national quality and safety standards (1). It is crucial that standards are raised, ensuring that patients receive compassionate and safe care.
Inspectors from the Care Quality Commission (CQC) found confidential records left unattended, and emergency medicines out of date. When reviewing the surgeries personnel files, it was discovered that there had been failure to conduct CRB checks on those working at the practice (1).
With previous warnings already in place, GP, Dr Michael Florin has been told that he needs to improve a number of key areas, including hygiene standards, record keeping and infection control (1).
Malcolm Bower-Brown, regional director for the CQC, commented on the investigation as follows (1)–
"When we registered Dr Florin's practice earlier this year, it was on condition that the provider addressed a number of shortfalls against the national standards of quality and safety. We were told that these improvements would be in place by April this year. It is a matter of real concern that, following our inspection in June, the surgery was still not meeting 13 of these standards.
"We have told Dr Florin that he needs to take urgent action to address these issues. We will return unannounced in the near future to check that Dr Florin has made the changes required and will not hesitate to take further regulatory action if required."
According to the Manchester Evening News, the surgery is thought to be one of the first to have been named and shamed by the commission (1).
Considering the circumstances, Asons Executive, Laura Williams –
"For most patients GP's are their first port of call for any health worries or concerns, and issues in patient care can contribute to instances of medical negligence further down the line. At Asons Solicitors we often see medical claims that began with an instance of GP Negligence. For example, an Ectopic Pregnancy Misdiagnosis can often escalate because the patient's records have been poorly recorded. Poor record keeping can mean connections between symptoms are missed, preventing the condition from being promptly diagnosed.
It is also important to note, that the CQC investigation highlights issues surrounding infection control; while we are vigilant against hospital acquired infections, it is important that we bear in mind that GP surgeries can carry the same risk of exposure."
If someone has suffered, then they may be able to make a clinical negligence claim for compensation. Taking action can prevent the same situation from reoccurring, helping others to avoid injury in future.
Asons Solicitors deal with GP Negligence claims on a regular basis, you can contact them on: 0844 850 1062 or you can fill out their claim form at asons.co.uk
-Sources-
(1) Manchester Evening News, "Sale doctor's surgery slammed by inspectors" (01/10/2013) manchestereveningnews.co.uk/news/greater-manchester-news/sale-doctors-surgery-slammed-inspectors-6119907
ENDS -
About Asons Solicitors:
Asons Solicitors is a Bolton-based law practice that specialises in personal injury and industrial disease claims. Founded by brothers Imran Akram and Kamran Akram, Asons Solicitors has developed to become a young and dynamic law firm that delivers practical solutions to clients in times of difficulty. Their continued focus on their staff has seen them awarded with the Investors in People "Gold Award"; which is reflected in the professional and personable approach they take in working with clients. They strive to grow and to develop, and their supportiveness and attention to detail ensures that their clients use them time and again.
For further information contact:
Email: info(at)asons(dot)co(dot)uk
Website: http://www.asons.co.uk