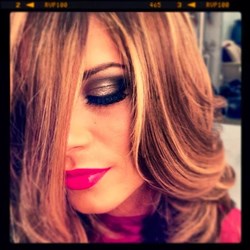 "Facebook and other social media platforms are essentially the cheapest and most effective form of getting the word out there about your business"
London, UK (PRWEB) October 23, 2013
Deanna Elyse Talks to ProfileTree about being a Makeup Artist in an interview released today.
When asked about her inspiration behind going into the makeup business, Deanna said "I began dancing at a very young age. I was always doing make up for stage performances. When the other girls saw what I could do, I started doing make up on my whole team and that's when I knew I loved doing make up."
According to her, a makeup artist's busiest time is usually during summer "Usually April-November I am booked ever Friday, Saturday, Sunday with anything from weddings, bridal showers, bachelorette parties, you name it"
Her biggest achievement, according to her is "There is no better feeling than making some look and feel the best they can. The confidence boost you can give to someone is extremely rewarding. When you look good, you feel good, and you can achieve anything."
Deanna's advice to anyone starting a business is "Take the time to accept that as time goes on you will develop the ability to do it naturally. Don't overwhelm yourself."
Ciaran Connolly, Co-Founder of ProfileTree says "Facebook and other social media platforms are essentially the cheapest and most effective form of getting the word out there about your business,"
Profile Tree's main goal is to help small business owners reach new customers every day with the most innovative online marketing tips and techniques.
About ProfileTree: ProfileTree is a free listing service where self employed and small business owner can create an online marketing profile. From Pencil or Portrait Artist to Self Employed Service Providers - anyone can create a skills profile on ProfileTree for free.
The website also enjoys sharing motivation photos for the self employed, helping with focus and drive. From professional wedding photographers to anyone offering a service - it can be listed online today.