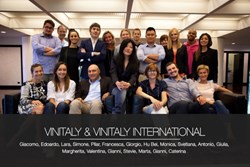 After four years of relentless commitment, we are pleased to witness a more united representation of Italian Wine education and promotion here in Hong Kong.
Verona, Italy (PRWEB) October 22, 2013
With only two weeks to go, Vinitaly International's upcoming 5th edition at the Hong Kong Wine and Spirits Fair gets off to a flying start with a confirmed area of over 970 sqm that will welcome 134 Italian wine producers, nearly three times more than last year. Additional "amici del vino" exhibitors will also be contributing to the Italian atmosphere of the new Vinitaly Lounge area.
Some 89 booths inside the Vinitaly pavilion will offer visibility to wine producers from all Regions of Italy during an event that in 2012 saw more than 20.000 trade visitors in three days. "Tough times call for more flexible solutions for the producers," comments Stevie Kim, who leads Vinitaly International, "Vinitaly has offered winemakers the opportunity to share booths this year, adopting a format similar to that of the many Italian consortium also present at the fair. After four years of relentless commitment, we are pleased to witness a more united representation of Italian Wine education and promotion here in Hong Kong."
Vinitaly International continues its Wine Education program in an area entirely dedicated to guided tastings hosted by top names in the world of wine: among these, famous Master of Wine, Debra Meiburg, the young wine educator, Carrie Wong and 2013 ambassador of Piemonte wines, Steve Wong will be offering interesting facts and information about Italian wines to all attendees. The educational program would not be complete without the "Taste like a Pro" series of an aspiring Master of Wine, JC Viens, who last year expressed his delight over the interest shown by Chinese people for Italian wines.
An exciting new addition to this year's event is the 72 sqm Vinitaly Lounge and Internet point were journalists, wine lovers, bloggers and importers alike can meet, chat or simply snuggle up and breathe in a traditional Italian atmosphere: Italy's top brands, Negroni, Fabbri, Agriform and Lavazza. will contribute with cheeses, cured meat, coffee and ice cream to some interesting food and wine pairing sessions while a traditional 5 pm "Aperitivo" is scheduled everyday from Thursday to Saturday.
A separate moment has been scheduled on the Eve of the Opening day of HKIWSF: an exclusive dinner in one of the most important restaurants in Hong Kong, the Domani Restaurant. During the event, the best Italian labels from Gin Gallery, Hong Kong's oldest wine importer, will be served offering the perfect pretext to celebrate Women and Italian Wines in Hong Kong.
---
About:
Veronafiere is the leading organizer of trade shows in Italy including Vinitaly (http://www.vinitaly.com), the largest wine event in the world. The 47th edition of Vinitaly counted some 148,000 visitors (+6%), of which 53.000 were international attendees (+10%) visiting from 120 countries. On 95.000 square meters, 4.200 exhibitors welcomed trade professionals, media and producers alike. The next instalment of the fair will take place on 6th- 9th April 2014. The premier event to Vinitaly, OperaWine (http://www.OperaWine.it) "Finest Italian Wines: 100 Great Producers", will unite international wine professionals on April 5th 2014 in the heart of Verona. Veronafiere also created Vinitaly International in 1998 to develop a global platform for the promotion of companies in the Italian wine and food sectors.