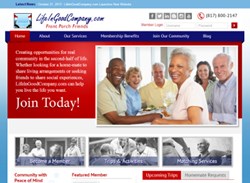 A primary component of LifeInGoodCompany.com is a home-mate matching service. This online exchange will connect home owners with individuals looking for new living space.
Fort Worth, TX (PRWEB) October 21, 2013
LifeInGoodCompany.com, a website developed by Fort Worth residents, launches on October 24, 2013. The site is targeted to individuals above the age of 50. The site aims to facilitate shared housing arrangements, called home-matching, and offers members a variety of additional services, including:

Travel club, with variety of trips and tours
Social activities, such as bridge, concerts, theatre and sports events, available for members with similar interests
Group activities including movie nights, ballroom dancing, and dining
The number of Americans turning 50 is increasing dramatically. AARP studies found that 12,500 people turn 50 every day. By 2015, adults above age 50 will represent 45 percent of the population. In the next ten years, this group will increase by 22 million. AARP also found that loneliness for adults over 50 living alone is as detrimental to health as smoking.
LifeInGoodCompany.com aims to help this shifting demographic by providing potential home-mate opportunities to share living arrangements and expenses and providing opportunities to socialize with others with shared interest.
"A primary component of LifeInGoodCompany.com is a home-mate matching service. This online exchange will connect home owners with individuals looking for new living space," LifeInGoodCompany.com co-founder Jon Glover said. "Both parties can benefit from home-sharing."
All LifeInGoodCompany.com members will complete a background check and detailed questionnaires. The information from the background checks and questionnaires will facilitate home-matching services and ensure members with similar interests are matched for social activities.
"The background checks and questionnaires will ensure security, safety and compatibility of home-mate matches," Glover said. "Finding the right home-mate not only reduces housing costs, but also increases companionship, security, health and well-being."
LifeInGoodCompany.com officially launches on October 24, 2013. A launch party that evening will be held at Marquis on Magnolia, located at 1227 West Magnolia in Fort Worth. Computer stations will be available at the event for attendees to sign up for membership in LifeInGoodCompany. Membership in the site is available at both the Gold Level, which focuses on home-matching services, and Platinum Level, which includes home-matching services as well as social activities.
LifeInGoodCompany.com Co-Founder Jorene Taylor Swift hopes the site provides opportunities for adults in the second half of life and reassurance for their children.
"As our aging population continues to grow, and the shape of traditional retirement changes, we believe LifeInGoodCompany.com can not only make a real difference in the lives of older adults, but also provide peace of mind to their adult children."
About LifeInGoodCompany.com
LifeInGoodCompany.com was founded in 2013 by Jorene Taylor Swift and Jon Glover. Swift is an ordained minister and educator with extensive experience in working with older adults. Glover, who holds advanced degrees in gerontology and education, has more than 20 years of professional experience in the field of aging, and is a past president of the Tarrant Area Gerontological Society. To learn more, or to RSVP for the launch event, contact info(at)lifeingoodcompany(dot)com or call (817) 800-2147.