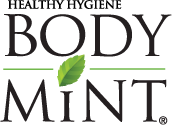 Oahu, HI (PRWEB) October 21, 2013
Body Mint-USA, the maker of the innovative odor fighting product with the same name has recently finished a major branding effort that included redesigning their website and unveiling a new logo. This branding effort is the first since the company was founded and helps the company position itself as a leader in the organic product market. According to a company spokesperson the changes help Body Mint project an image that reflects the natural, organic nature of the company's products.
The new website features a color scheme that evokes a natural feel. Visitors to the site discover all the information they need to know about the Body Mint product including how Body mint works, it's powerful ingredients, reviews submitted by people who have used and benefitted from Body Mint, and details on special offers. The developers of the site also included a live chat link so those interested in Body Mint can chat live with a company representative.
The new logo is more powerful with the name of the product featured prominently and separated by a small mint leaf that lets the customer know right away the Body Mint is a fresh, natural and organic solution to the problem of body odors.
The new website and logo are a perfect match for the Body Mint product. Body Mint is an innovative deodorant product that comes in tablet form and is free of harsh chemicals. The active ingredient is chlorophyllin, an all-natural derivative of chlorophyll, and the substance that allows Body Mint to target odors throughout the body, including breath, underarm, perspiration and foot odors.
To view the new website and logo, and to learn more about Body Mint visit the new website at http://bodymint.com/ or call 1.866.274.6468 to speak with a company representative. Body Mint also has a presence on Facebook, Twitter and YouTube and when visitors go to the Body Mint website they are able to chat live with an expert on the product.
About Body Mint-USA LLC
Body Mint-USA, LLC is a subsidiary of Hawaiian Organics, LLC. The company was founded in 1997 with the mission to research and develop unique and healthy products that enhance the quality of life. Body Mint is Hawaiian Organic's first and most successful product. Body Mint is a natural, ingestible body and breath deodorizing/freshening tablet that is basically a deodorant in a pill.
To learn more contact:
1.866.263.9646
http://bodymint.com