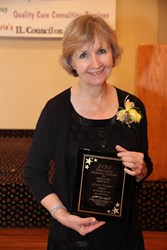 I've always had a love for older adults...I enjoy helping them have the best day they can through activities.
Evanston, IL (PRWEB) October 22, 2013
The Illinois Activities Professional Association (IAPA) awarded its annual Dorene Award to Sharon Wagner, activities specialist at Westminster Place, a Presbyterian Homes continuing care retirement community in Evanston, IL, at its annual conference on September 26, 2013, in Springfield, IL. The Dorene Award is given to the activities professional who contributes in an outstanding way to the profession.
Ms. Wagner was nominated by her supervisor, Debbie Seiller, and her award application was supported by numerous letters of recommendation by staff members and volunteers. With more than 23 years experience, Ms. Wagner has worked at Westminster Place since 2003, most often with residents in long-term care and memory support.
"Sharon is creative, caring, enthusiastic and knowledgeable in providing stimulating and supportive activities for residents, many of whom are facing health challenges," says Ms. Seiller, coordinator of health care activities at the retirement community. "She continually comes up with new ideas, and pursues education and information to learn about the latest approaches and developments in activities to enhance the lives of older adults."
Ms. Wagner leads activities and trips to places that include the top of the John Hancock building, boats rides on Lake Michigan, local farms, museums and exotic restaurants. She organized a school supply drive to benefit low-income children at a local school. Residents helped to sort, package and distribute the supplies, experiencing the satisfaction of continuing to contribute in their community. Ms. Wagner has implemented Skype video calls to keep residents in touch with their families and she coordinates individual computer lessons for residents in skilled nursing care, memory support and assisted living.
Ms. Wagner is a past president of the Chicagoland Activity Professionals Association. She completed coursework to receive an activity director's certification. A valued contributor to the interdisciplinary care team at Westminster Place, Ms. Wagner communicates insights, goals and progress of residents during care plan meetings. She also provides in-service sessions for nursing and activities staff about the importance of activities, documentation and simple things that can be incorporated daily to provide an enriched environment. Ms. Wagner led a session at this year's IAPA conference on Presbyterian Homes' "Seven Aspects of Wellness," and how technology can be used to promote these principles and create innovative and stimulating programs to enhance the quality of life for residents, clients and patients.
"I heard once that you should find something that you would do for nothing and pursue it as a job," says Ms. Wagner. "I've always had a love for older adults and started working with this population as a volunteer in eighth grade. I admire their wisdom, spirit and knowledge. I enjoy helping them have the best day they can through our activities and sharing things that are new."
###
About Westminster Place
Westminster Place is a Presbyterian Homes continuing care retirement community in Evanston, IL, serving more than 500 residents on a 40-acre campus. The community provides independent living residences, assisted living, skilled nursing care, rehabilitation and memory support.
About Presbyterian Homes
Founded in 1904, Presbyterian Homes is a not-for-profit organization with a national reputation for creating extraordinary retirement communities. Presbyterian Homes serves more than 1700 older adults through its residential and healthcare programs on campuses in Evanston, Lake Forest and Arlington Heights. The organization is accredited by the CARF/CCAC, the nation's only accrediting body for retirement. For more information visit http://www.presbyterianhomes.org.