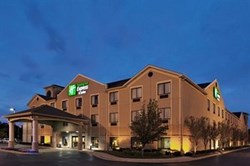 We want to focus on services that will not just ease pains but offer maximum benefit for all.
Detroit, MI (PRWEB) October 24, 2013
Greenbee Parking, a fast growing airport parking service, has announced that Holiday Inn Express Hotel & Suites will be their new partner in Detroit. With this strategic partnership in place they can now serve their clients even better with easy and secure airport parking whenever they need. Along with the partnership they have also introduced new and affordable rates for all travelers which mean everyone gets to enjoy the Greenbee advantage – great service at a great price. The new deals are especially handy for frequent travelers using the busy Detroit (DTW) airport. Greenbee has come up with new discounted and cheap Detroit long term airport parking rates which will go a long way to ease travel budget pains. For a busy airport like Detroit, the option for alternate and cheap parking has been an additional bonus for all travelers.
"We want to focus on services that will not just ease pains but offer maximum benefit for all," said Christine Cooper – Marketing Coordinator, Greenbee Parking. "Our partnership with Holiday Inn Express Hotel & Suites is yet another endeavor to ensure that our clients can enjoy the best of services without facing any hassles. They can also benefit from our Detroit long term airport parking rates which will offer them mega savings options round the year."
Detroit Metropolitan Wayne County Airport Parking Information
Detroit Metropolitan Wayne County Airport is one of the major international airports in the country. Covering an area of over 7000 acres this sprawling airport is a major hub for commercial passenger travel as well as for cargo transportation. The Wayne County Airport Authority manages the Willow Run Airport along with the Detroit Metropolitan Airport (DTW) and together they form one of the most important air transportation hubs in the country. Located in Romulus, a Detroit suburb, DTW is not only the busiest airport in the state but also a major connecting point for most domestic and international cities. It ranked as the 16th-busiest airport in the US and 24th-busiest airport in the world in 2009 and has remained one of the ten busiest airfields in North America for daily aircraft operations. Along with Michigan, it also serves parts of Ohio, and parts of southern Canada. It connects with over 160 destinations worldwide and in 2010, has been named as best large U.S. airport in customer satisfaction by J.D. Power & Associates. The great infrastructure and service contributes to customer comfort. Now with the Detroit long term airport parking rate introduced by Greenbee Parking, frequent travelers using this very busy airport have additional reasons to celebrate.
The Greenbee Airport Parking Solution
Greenbeeparking.com is the connection between consumers and parking vacancies in close proximity to major airports and seaports. The parking spaces are very affordable because the company has negotiated discounted rates with major hotel chains for the parking spaces that are not currently occupied. Here's how it works.
Greenbee Parking puts the available inventory of parking spaces on their website to be reserved by business and leisure travelers looking for cheap airport parking. This alternative method for finding parking equates to significant savings for the traveler. You can learn more about their offers from (http://www.youtube.com/watch?v=WWLybHNYjYQ) or via the web at (http://www.greenbeeparking.com/MICHIGAN/DTW).
About Greenbee Parking
Greenbee Parking is the nation's most innovative long term parking company, with a new way of making long term parking affordable. The company is rapidly adding new airports to its network.