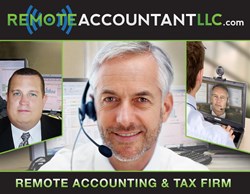 "We primarily work through telephone, email or live video chat with clients, real-time secure/encrypted PC to PC connect for updating of books, training or scheduling of automatic accounting file updates" comments Jason A. Vojcik, staff tax accountant.
Chicago, Illinois (PRWEB) October 24, 2013
A Remote Accountant or Online Accountant works with their clients though telephone, email, pc to pc log on, screen share training/support and live video chat. Direct secure encrypted PC to PC log-on of client's computers when needed/allowed allows real time or scheduled automatic updates of client books live or off-line and support performed without the accountant having to be on premises.
Regarding the services that's provided by Remote Accountant, LLC, "the leading national pioneer US remote online accounting & tax firm" which operates http://www.remoteaccountantllc.com, senior tax accountant Jason A. Vojcik recently remarked, "We provide optimal client availability on clients specific schedules remotely and professional sustainability in a very uncertain economic environment. We primarily work through telephone, email, live video chat with clients, real-time secure/encrypted PC to PC connect for updating books or training, scheduling of automatic accounting book/file updates and secured password protected file/document transfers on email communications".
"With our professional and friendly staff and experience across numerous industries, we cover all business entity structures nationwide; providing full cycle accounting, bookkeeping & tax filing services remotely. We are there when you need us, across town or across the country; to close out your accounting books, prepare and file your taxes, to help you successfully get through an audit or whatever your business situation may encounter".
By switching to a firm such as Remote Accountant, LLC., as your sustainable virtual remote based online accountant & online accounting firm, small businesses and individuals free up the cost of maintaining an accounting staff on payroll and free up valuable time to better focus on running their businesses. Just think of an online accounting firm such as Remote Accountant, LLC. as an experienced accounting & tax firm in your back office cubicle & typically firms such as these are better priced than local firms."
Having a sustainable, easily accessible, experienced and national remote accounting firm available to your business on your specific required schedule who can work with your business remotely might not be a bad idea in today's uncertain and unpredictable economic environment. This appears like a great move to begin implementing for your businesses future as today's firms are heavily abreast in today's technology & national changing accounting and taxation requirements.