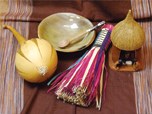 Pain knows no boundaries -- and neither should caring.
Mishawaka, IN (PRWEB) November 05, 2013
Pain knows no boundaries - and neither should caring. Okuyamba Fest was created to support the Palliative Care Association of Uganda (PCAU) in their efforts to make palliative care accessible to the more than 35 million people of Uganda. Currently only 10% of them have access to palliative care to ease the symptoms of pain that often accompany end-of-life diseases.
The evening will begin with an international beer and wine tasting from 5:30 to 6:15, followed by a brief program, which will include a sneak peak at the Hospice Foundation's upcoming documentary about the fate of child caregivers in Africa: Road to Hope. The international food sampling and silent auction begin at 6:45. The silent auction will close at 7:30 with checkout immediately following. Granite City, Mishawaka, is the event sponsor.
Center for Hospice Care and the Hospice Foundation became partners with PCAU in 2008 through an innovative program developed by FHSSA (formerly known as the Foundation for Hospices in Sub-Saharan Africa). A year later, PCAU's country director, Rose Kiwanuka came to the US to share her mission of easing the pain the suffering of those dying deep in the rural villages of her country. To share her story and support PCAU's work, the Hospice Foundation produced the award-winning documentary "Okuyamba." Titled for the Lugandan word meaning "to help," the film has screened at film festivals, universities, churches, and in hospice and palliative care organizations across the US and around the world.
The event will be held November 14th from 5:30 to 7:30 pm at the new Center for Hospice Care Mishawaka Campus, located at 501 Comfort Place, Mishawaka, IN.
Reservations can be made online at http://www.centerforhospice.org/OkuyambaFest2013 or by contacting Lisa Douglass at DouglassL(at)centerforhospice(dot)org or 574.243.3119.