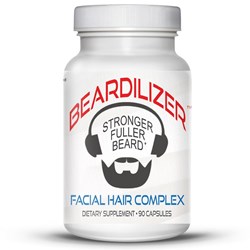 100% Money-Back Guarantee means you can count on Beardilizer reliability.
Pompano Beach, Florida (PRWEB) October 23, 2013
Beardilizer for beard growth is proud to announce that they are launching a 100% satisfaction guarantee program with a 30-day money back promise. They are proud to say that they are the first in this product category and industry to have a solution that offers that kind of guarantee program for their customers.
This is a promise thta the customer will see results within 30 days. Nevertheless, a longer treatment is needed to reach a full beard, and the length will depend on the quality of the customer's facial hair.
Beardilizer has been distributed since summer 2013 with great success and positive feedback.
What Beardilizer does
Beardilizer is a supplement product which is 100% natural, professionally formulated multivitamin facial hair formula for men, each bottle containting 90 capsules for a 1-month Intensive Treatment or up to 3-month Care Treatment. This beard growth solution nourishes the facial hair follicle from the inside and is also a dry, itchy beard and moustache solution.