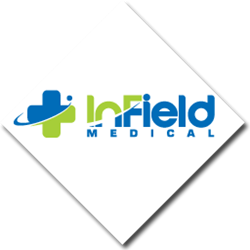 "We are pleased to have had the expertise and assistance of InField Medical to successfully negotiate a suitable transaction that recognizes the value of this product platform."
Durham, NC (PRWEB) October 23, 2013
InField Medical, LLC, a medical device accelerator and technology brokerage firm, announced today that it has successfully brokered the sale of FirstCall Innovations, LLC, Static Invasive Monitor "S.I.M. Clip" platform. The undisclosed purchase price from a global medical device leader consisted of a lump sum cash payment.
"It has been a pleasure to represent FirstCall Innovations through this transaction. The interest and ultimate sale of the "S.I.M. Clip" platform demonstrates the value that large medical device companies place on simple innovations that solve everyday clinical needs," stated Tim Hopper, Managing Partner at InField Medical, LLC.
Mr. Ken Bernstein, President of FirstCall Innovations, LLC added, "We are pleased to have had the expertise and assistance of InField Medical to successfully negotiate a suitable transaction that recognizes the value of this product platform."
Founded in 2012, InField Medical is an accelerator and broker of medical device technologies, assisting clients in the sale, license or distribution of valuable medical device assets. Our focus is on low to mid tech technologies that have a defined regulatory approval path (Class I/II 510k) and have a high likelihood of revenue generation and/or strategic interest/exit within a two year time period. An easy way to correlate the InField Medical strategy is to compare it to the great American game of baseball; we concentrate on the singles & doubles with the occasional triple.
Additional information on the "S.I.M. Clip" can be found at http://www.FirstCallInnovations.com. For additional information on other InField Medical, LLC products, services and news, visit http://www.InFieldMedical.com.