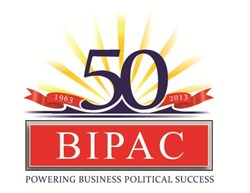 "Bo's background on the front lines of the toughest campaigns of the last decade bring tactical political muscle to our organization and will help the business community become a more effective political force," said BIPAC CEO & President Greg Casey
Washington, DC (PRWEB) October 22, 2013
The Business Industry Political Action Committee (BIPAC) announced today that Bo Harmon has been brought on to lead the business organization's political efforts. Harmon, a veteran campaign operative, brings a strong grassroots and communications focus to BIPAC's mission of helping the business community play a more active role in the public policy process.
"If the business community is going to compete politically in this dynamic political environment, it has to start engaging more at the grassroots, employer to employee level. I am honored to join an organization that has pioneered those efforts and look forward to expanding BIPAC's role in supporting pro-job, pro-growth candidates and initiatives at the local, state and federal level," said Bo Harmon, vice president of political affairs at BIPAC.
"Bo's background on the front lines of the toughest campaigns of the last decade bring tactical political muscle to our organization and will help the business community become a more effective political force. Through our Prosperity Project (P2) BIPAC members have built the largest employee grassroots network in the country. Bo's experience leading and utilizing large scale political operations will allow us and them to more effectively advocate for pro-growth, pro-jobs policies and candidates," said BIPAC CEO & President Greg Casey.
Harmon served as campaign manager for candidates such Senator Saxby Chambliss (GA) and Governor Bob Ehrlich (MD) and held senior roles with the NRCC, McCain for President and Gingrich for President as well as being a partner at voter contact firm Response America.
The Business Industry Political Action Committee (BIPAC) was founded in 1963 as "an independent, bipartisan group," to serve as a political action arm for American business and industry. BIPAC provides its members with the tools and strategies they need to keep their employees abreast of the key policy decisions impacting their livelihood, and opportunities to get involved in the public policy process. BIPAC helps state business organizations impact political outcomes beyond the beltway, through the nation's largest employee-focused grassroots network in the states. BIPAC provides meaningful political analysis to keep members informed, and craft forward-thinking election strategies, and deploy cutting-edge PAC and grassroots tools and technology to power the business community's engines of advocacy. - See more at: https://www.bipac.net
###