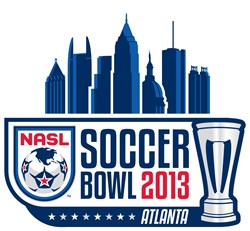 Atlanta, GA (PRWEB) October 22, 2013
Ludus Tours has teamed up with NASL Soccer Bowl 2013 and the Atlanta Silverbacks to extend a chance for Georgia residents to win a trip to England to watch a top professional soccer match.
Thanks to Ludus Tours, the deadline to enter this fantastic competition has been pushed back from October 21 to November 1. That's an extra 10 days for soccer fans to enter to try and win the trip of a lifetime.
Georgia residents who purchase tickets to NASL Soccer Bowl 2013 before November 1 will automatically be entered to win the prize, which will go to one lucky winner. The winner will receive the following:

Round-trip economy airfare for two to London
Two tickets to a professional soccer game of their choice
A three-night hotel stay in a city close to the game they attend
The equivalent of $100 spending money per person per day in the UK
Tickets for NASL Soccer Bowl 2013 are now on general sale and can be purchased by calling 404-969-4900 or booking online at http://www.atlantasilverbacksfc.com. The NASL Soccer Bowl 2013 official website is now live at http://www.NASLSoccerBowl.com.
Ludus Tours provides complete travel, tour and hospitality packages to the world's premiere sporting events with the primary focus being on the 2014 World Cup in Brazil, where Ludus has booked travel for hundreds of people and has set up a satellite office to deal with the infrastructure. Founded in 2003, Ludus has helped tens of thousands of corporate groups, individuals, families and organizations get the most out of experiencing major global events.
"All we are really thinking about these days is soccer and the build up to the World Cup next year in Brazil," Nathan Goodson, Ludus' Vice President of Marketing, said. "Working with the NASL gives us the opportunity to promote the sport from a grassroots level. We're thrilled to be able to be part of the family."
Ludus Tours is proud to be the Official Hospitality and Travel Partner for over a dozen North American Sports Federations and are pleased to help the sponsors, athletes coaches, friends and families make the most of these exciting and memorable events. Ludus Tours is based in Austin, Texas with an office in Rio De Janeiro, Brazil.
"Two lucky fans are going to enjoy the trip of a lifetime thanks to Ludus Tours," said Atlanta Silverbacks President/GM Andy Smith. "They will experience the thrill of a championship game at NASL Soccer Bowl 2013 and then have the opportunity to travel across the pond and see a game in one of the best leagues in the world."
NASL Soccer Bowl 2013 will be played at Atlanta Silverbacks Park on November 9, when the NASL Spring Season Championship-winning Silverbacks take on the team that wins the NASL Fall Season, which is currently underway.
Only fans that purchase their tickets before November 1 will be eligible to win the Ludus Tours-provided trip for two to England. The sweepstakes is only open to Georgia residents who are age 18 or older at the time of entry. All entries are subject to the Official Rules, which can be found here.
About the NASL
The North American Soccer League is a professional soccer league established in the United States and Canada. The NASL member teams are: Atlanta Silverbacks, Carolina RailHawks, FC Edmonton, Fort Lauderdale Strikers, Minnesota United FC, New York Cosmos, San Antonio Scorpions FC and Tampa Bay Rowdies. Indy Eleven, Ottawa Fury FC and Virginia Cavalry FC will begin play in 2014 and clubs in Jacksonville and Oklahoma City will commence play in 2015. For more information about the NASL, visit http://www.NASL.com. Follow the NASL on Twitter @NASLOfficial and Facebook.