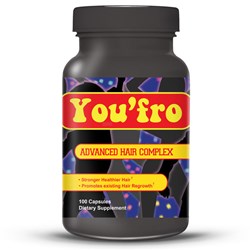 100% Money-Back Guarantee means you can count on You 'Fro reliability
Pompano Beach, FL (PRWEB) October 24, 2013
You 'Fro natural black hair solution is proud to announce that they are launching a 100% satisfaction guarantee program with a 30-day money back promise. Consumers may use this dietary supplement and test it for 30 days and if it does not work get their money back. You 'Fro is the first product in this category and industry to have a solution that offers that kind of guarantee program for their customers. The staff at You 'Fro is saying that this is a golden opportunity for those who want to try out their product, proving to them that this black hair growth solution can deliver its promises.
Customers are delighted by this news as this is a guarantee that You 'Fro is confident that their product is going to start working for them within 30 days.
Moreover, BuyBuySocial has launched a US national distribution and marketing for You 'Fro. This guarantees that they will have the best marketing for their company. BuyBuySocial is known for their professional work when it comes to distribution and marketing strategies for businesses and companies so they will definitely have an edge in the market. After a few weeks, the results have already been showing highly positive signs.
What You 'Fro does
You 'Fro is a professionally formulated healthy hair growth complex, each bottle containing 100 capsules that will offer up to 2-month treatment. This dietary supplement works for all hair types, but provides specific results with African-American and Ethnic Hair.
About You 'Fro
You 'Fro is the Number One black hair growth complex for women. The dietary supplement and multivitamin promotes fuller, healthier hair with its professionally formulated all natural, drug-free ingredients to target the hair follicle from the inside out.
For more information, visit http://www.natural-black-hair.com