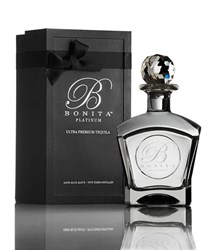 "We are thrilled to be a part of their anniversary celebrations this Thursday. Both Bonita and Revolucion have really grown in the past year, and we're excited to be working together moving forward." - Chris Brown, CEO, Bonita Spirits
Chicago, IL (PRWEB) October 22, 2013
Thursday, October 24th 2013 marks the one year anniversary of the Mariachi Hospitality Group's Revolucion Mexican Steakhouse. As one of the more unique and trendy spots in Chicago, Revolucion has been very successful in their first year.
Revolucion recently began carrying the most popular new premium tequila to hit the market, Xzibit's Bonita Platinum Tequila. To celebrate, Bonita Spirits is sponsoring the anniversary event. Guests will be treated to food and drink specials, complimentary desserts, and a complimentary exclusive sampling of the world's finest tequila.
"We are thrilled to be a part of their anniversary celebrations this Thursday. Both Bonita and Revolucion have really grown in the past year, and we're excited to be working together moving forward." - Chris Brown, CEO, Bonita Spirits
The celebration starts at 6PM at Revolucion Mexican Steakhouse, 3443 N. Broadway Ave. Space is limited, so guests are encouraged to arrive early.
Bonita Platinum is now available in several states and in select locations internationally. Consumers can visit http://bonitaspirits.com/where-to-buy/ to find a local or online retailer, or contact their favorite establishment to request the product.
The Bonita Spirits Company is one of a select group of celebrity owned spirits in the world. The company was founded in 2010 by Chris Brown, former commercial pilot and accomplished entrepreneur. Bonita Platinum is an ultra-premium luxury brand; the world's only five-times distilled tequila. For more information on the Bonita Spirits Company, please visit http://www.bonitaspirits.com
Xzibit (Alvin Joiner) is a multiplatinum recording artist, actor and television personality, born in Detroit, Michigan, where he began rapping at a young age. He went on to build a solid career with projects alongside such big names as Eminem and Snoop Dogg. Already well-established and critically acclaimed, Xzibit was recruited by famed producer Dr. Dre to join the all-star cast of Dre 2001(1999). An accomplished actor and television host, he can also be seen in films like 8 Mile (2002), Derailed (2005) and XXX: State of the Union (2005). His newest film is Seal Team Six: The Raid on Osama bin Laden.