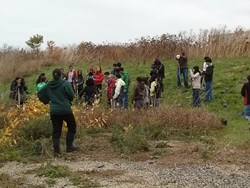 Toronto, ON (PRWEB) October 23, 2013
Evergreen, a national not-for-profit that inspires action to green cities, and 407 ETR, have joined together to engage in a number of community plantings to support the environment in local parks from Mississauga to Richmond Hill.
Over the last few months, 407 ETR staff, customers and the community have joined a series of stewardship and planting events organized by Evergreen to enhance the integrity of parks near 407 ETR.
"Last weekend, close to 200 people gathered together to plant more than 350 trees and shrubs at King's Park in Mississauga and Downsview Park in Toronto, and we're sure that this weekend's planting at Sussex Park in Richmond Hill will be equally successful," says Sue Arndt, Associate Director of Urban Ecology at Evergreen. "The spirit and enthusiasm of the people attending reflect their dedication to nature and their community."
Evergreen has been engaging local communities in these planting and stewardship efforts for over 20 years, connecting people with nature in their own towns and cities. The planting projects add vital greenspace to the urban landscape, and offer a range of benefits for the region—creating habitat for birds and animals and insects, and filtering pollutants from our air and rainwater. 407 ETR's support of Evergreen goes towards nine local planting and stewardship activities. 407 ETR also promotes 407 ETR Paperless Billing to its customers as an environmentally friendly choice.
"407 ETR is proud to partner with Evergreen to support community tree planting and stewardship events across the Greater Toronto Area, all within 10 kilometres of 407 ETR," says Jose Tamariz, President and CEO of 407 ETR. "These events, open to the public and supported by 407 ETR staff, highlight the commitment of our customers and neighbors to help maintain, revitalize and celebrate the parks in local communities."
-30-
About Evergreen: Evergreen is a national not-for-profit that inspires action to green cities. By deepening the connection between people and nature, and empowering Canadians to take a hands-on approach to their urban environments, Evergreen is improving the health of our cities—now and for the future. For more information, visit http://www.evergreen.ca.
About 407 ETR: 407 International Inc. is owned by Cintra Infraestructuras S.A., a wholly owned subsidiary of Ferrovial S. A. (43.23%), by indirectly owned subsidiaries of Canada Pension Plan Investment Board (total 40%), and by SNC-Lavalin (16.77%).