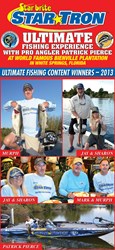 (PRWEB) October 31, 2013
Fort Lauderdale, Florida based Star brite®, manufacturer and distributor of Star Tron ®Enzyme Fuel Treatment, the marine industry's top-selling fuel additive, treated the winners of the First Annual Ultimate Fishing Experience to 2 days of fishing with pro angler Patrick Pierce at Bienville Plantation in Crystal Springs, Florida. In addition to world-class fishing, Bienville Plantation is also known as a top wingshooting destination featuring luxurious accommodations and 5-star gourmet meals.
Jay and Sharon Rhodes of Connecticut were chosen from thousands of entries on the Star Tron® Facebook page, while Mike McCurdy and Shannon "Murph" Murphy from Kansas had their name drawn during the Bassmaster Alabama River Charge presented by Star Tron®. Both winners received custom St Croix rods equipped with Shimano reels as well as a wide selection of Star brite® boat care items.
Star brite® manufactures Star Tron® Enzyme Fuel Treatment and an extensive line of boat, motorcycle, car and RV care and maintenance items at the firm's 300,000 s.f. facility located in Montgomery, Alabama.
For more information, visit http://www.startron.com, http://www.starbrite.com, the Facebook pages or call (800) 327-8583.