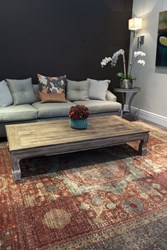 Every rug in each collection is a true work of art and is handmade by a master weaver.
Beverly Hills, CA (PRWEB) October 24, 2013
For more than 30 years, Caravan Rug Corp has been setting the standard in rug design and construction, producing quality modern, traditional and transitional rugs. They have just released their latest line of traditional rugs and some believe it is their most impressive work yet.
Caravan's traditional series consists of 4 collections, the Reveal, Revival, Bamyan and Monarch, each of which is available in a wide array of styles and colors.
Every rug in each collection is a true work of art and is handmade by a master weaver. Only the best all natural materials are used, including the finest hand-spun wool and the highest quality vegetable dyes.
The rug designs draw on traditional motifs that have been handed down over generations, providing a depth and richness that you only get from authentic handmade rugs.
The Reveal collection offers the most affordable rugs in the series, Monarch the most luxurious, with the level of quality and craftsmanship steadily increasing from Reveal to Revival to Bamyan and Monarch.
While each line has a different price point, a rug from any of these magnificent collections will be more than capable of acting as the centerpiece in any interior space.
You can find Caravan's entire traditional selection by visiting their website or making an appointment to drop by their showroom, which is located at 8725 Wilshire Boulevard, Beverly Hills.
In addition to having the largest retail rug showroom in the Los Angeles area, Caravan is also a manufacturer and distributor of fine handmade area rugs. They supply their branded creations to a large network of dealers all over the country. Caravan owns several manufacturing centers in Afghanistan, Pakistan, India and Nepal, where these rugs are hand woven in the centuries-old method.