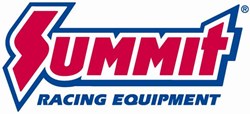 Tallmadge, OH (PRWEB) October 23, 2013
Developed from experience with GM Racing's sport compact drag racing program, the AirWerks turbos are BorgWarner's first purpose-built performance turbochargers.They can make up to 70 psi of boost for ultra high-performance and racing engines.
The AIrWerks turbos feature BorgWarner "S" generation compressor wheels with extended tip technology. This design feature promotes greater airflow by using a low mass/low-inertia wheel that performs like a wheel of greater size and mass. The extended tip technology allows faster spool-up at lower engine speeds while providing plenty of boost at the top end–up to 70 psi depending on the turbo and application.
Summit Racing offers BorgWarner AirWerks turbochargers in several configurations. BorgWarner has a useful tool to determine the proper turbocharger for your application. Called Match-Bot, it asks for detailed engine parameters and then selects the best turbo(s) for your project.
Summit Racing Equipment
http://www.SummitRacing.com
1-800-230-3030