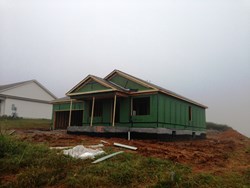 From the donation of their architectural services though redesigning our home plans to sponsoring a whole home each year, the Jones Company has been making a real and measureable difference in the lives of local families.
Nashville, TN (PRWEB) December 02, 2013
The Jones Company, a Nashville-based home builder, has begun work on their 10th home for Habitat for Humanity of Williamson County, announced Kenneth Stricker, CEO. The project, which is in partnership with Crye-Leike, will result in a brand new home for the Lemus family of Williamson County.
The Habitat for Humanity Fall Build for 2013 will mark The Jones Company's 10th project with the organization. Construction is underway on the new home, which is expected to be completed in time for Frank Lemus and his son Frankie to enjoy Thanksgiving in their new home.
"We're pleased to partner with Habitat on this year's Fall Build," said Stricker. "It's important for The Jones Company's team to give back to the community by designing and building beautiful homes for deserving families. We can't wait for the Lemus family to see the finished product."
The year 2007 marked the beginning of Habitat's 'Building New Traditions' program, which was a four-year, $5,796,000 affordable home ownership initiative under which the Williamson County Habitat worked to improve the architectural style of Williamson County Habitat homes, acquire and develop both residential lots for individual homes and residential tracts for small distinctive Habitat neighborhoods in Williamson County, and build and sell 46 affordable Williamson County Habitat homes in partnership with hard-working, lower-income families living or working in Williamson County. Although The Jones Company and Crye-Leike were involved with Habitat for a few years before this initiative began, the program really solidified their commitment and involvement for years to come.
Beginning in 2006, The Jones Company's architectural design team redesigned the exteriors of the Habitat homes so that the new styles would add character to the landscape of Williamson County, and be more in keeping with the historical styles of many existing homes. And now, almost 10 years later, as a result, the streetscapes in Franklin and Williamson County have seen an impact.
"For the last 10 years, the Jones Company has worked with Habitat for Humanity of Williamson County to provide local hardworking families with our philosophy of a hand up, not a handout, through our zero-interest mortgage and homeownership program," said Becket Moore, Executive Director of Habitat for Humanity of Williamson County. "From the donation of their architectural services though redesigning our home plans to sponsoring a whole home each year, the Jones Company has been making a real and measureable difference in the lives of local families. We here at Habitat, and all those we serve, are truly blessed by their on-going partnership."
For more information on the Jones Company and additional properties, visit LiveJones.com.
About The Jones Company
The Jones Company, a Nashville new home builder, was founded by John E. Jones of St. Louis in 1927, and recently celebrated its 86th Anniversary. His son, Robert (Bob) Jones, bought the company in 1964 and led the company to great success. Bob's son, Tom Jones, is still involved to this day. The company has been family owned and operated since its inception. The Jones Company offers a variety of home collections in all price ranges to meet diverse lifestyle needs, starting with the $200,000 "first move up" home to homes in excess of $600,000. Known in the homebuilding industry as "the value leader," the company's in-house architectural department strives to find new ways to provide the best value to buyers. It is for this reason that many customers purchase two, three and even four Jones homes over their lifetime. In demonstrating this mission, every Jones home is backed by a 1-10 Guarantee Program that provides a one-year warranty on workmanship and materials, and a ten-year guarantee on major structural components. The company is proud to have a history of community involvement in the markets it serves, including a decade of projects with Habitat for Humanity.
About Crye-Leike, Realtors:
Harold Crye and Dick Leike established Crye-Leike, REALTORS in 1977. Today, Crye-Leike®, the nation's 6th largest real estate company, has a network of more than 3,000 licensed sales associates based out of more than 120 corporate and franchise offices located through-out the nine-state southern region of Tennessee, Alabama, Arkansas, Florida, Georgia, Kentucky, Mississippi, North Carolina and Oklahoma.
About Habitat for Humanity of Williamson County:
Since 1992, Habitat for Humanity of Williamson County (HFHWC) has partnered with local churches, businesses, foundations, and the public sector to provide 138 hard-working, low-income Williamson and Maury County families with the opportunity to purchase their own homes. Home construction and neighborhood development is funded through tax-deductible financial contributions and in-kind donations from high school students, local businesses, churches, civic organizations, and individuals, as well as through profits generated from the affiliate's ReStore. These contributions, along with the labor of sponsor employees, church members, and other volunteers, enable Habitat for Humanity of Williamson County to build and sell homes to families who qualify.
Applicants are selected to partner with Habitat for Humanity of Williamson County based on three criteria: the need for housing, the ability to pay the mortgage, and the willingness to partner. After a thorough qualification process, partner families must earn up to 500 hours of "sweat equity" by completing a homebuyer's education program, working on others' homes and their own home. HFHWC sells the homes at cost and does not charge interest on the mortgage loan, which makes the payments affordable. For more information about our homeownership program, please visit our website at http://www.habitatwilliamson.org.