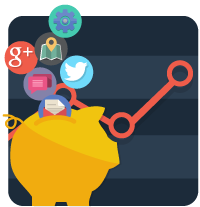 When it comes to making your case for budget, data is your most important asset.
Charlottesville, Va. (PRWEB) October 23, 2013
2014 is fast approaching, and now is the time for marketers to start planning their marketing budgets for the upcoming year. According to a survey conducted by Econsultancy and the Society of Digital Agencies, 55 percent of marketers worldwide increased their digital marketing budgets in 2013. But one of the biggest challenges marketers faced was receiving budget approval when allocating for untested digital strategies.
Learn how to make the planning and budgeting process more manageable while making the case for digital marketing in the upcoming webinar: "Planning and Budgeting for Digital Marketing Success in the New Year." Search Mojo's President and CEO, Janet Driscoll Miller and Sales Consultant, Sean McCusty will explain why digital marketing needs to be a part of next year's budget and how to lay the foundation to attain budget approval. The webinar will be held Thursday, October 24, 2013 from 2-3 p.m. ET.
Attendees will learn which digital marketing channels to consider based on real case studies and how to determine how much budget and time should be allocated to those channels. McCusty will also review why data is so important and how to remain fluid and flexible with the overall plan and budget various strategies for obtaining budget approval, especially when executive management might be wary of investing in new marketing tactics.
"I plan to provide suggestions for navigating the budget approval process," said McCusty. "Each company is unique; it's important to understand how that impacts the type and amount of information you need to include with your budget request."
"When it comes to making your case for budget, data is your most important asset," said Miller. "I will be sharing the most important digital marketing channels to include in your 2014 budget to maximize success."
To register for the webinar, go to http://www.search-mojo.com/Budget.
About Search Mojo
Search Mojo specializes in search engine marketing, social media advertising, content marketing and analytics services. Founded in 2005, Search Mojo uses the latest information and techniques to help companies improve their conversions and lead generation through search and social tactics. Learn more about Search Mojo at search-mojo.com or read our blog, Search Marketing Sage, at blog.search-mojo.com.