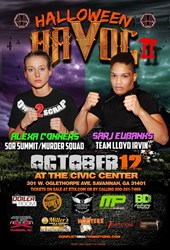 Savannah, GA (PRWEB) October 23, 2013
Team Lloyd Irvin MMA is quickly building a powerhouse squad. The academy, best known for it's jiu jitsu prowess and popular head coach Lloyd Irvin, is spreading its wings into the MMA arena. Team Lloyd Irvin MMA has produced top level UFC fighters like Mike Easton and Brandon Vera and affiliate fighters such as UFC bantamweight champion Dominic Cruz, Phil Davis, and Alexander Gustaffson. Head coach Master Lloyd Irvin is now working on producing the next crop of professional MMA fighters out of his Camp Springs, MD headquarters.
Sijara Eubanks, on of only three females on the Team Lloyd Irvin MMA fight team, made her amateur MMA debut in Savannah, GA on October 12, 2013 at the Conflict MMA Halloween Havoc promotion. Eubanks (1-0) faced off against Alexa Conners (2-1) of Sor Summit/Murder Squad at 135lbs. The weigh ins for the bout took place on Friday Oct 11. Sijara weighed in at 136 lbs (a one pound allowance is given in the state of Georgia), however, Conners weighed in 4 lbs over at 139. That didn't deter Eubanks as she elected to fight despite the weight differential.
The fight was highly regarded as fight of the night from many of the fans in attendance that night. The first round went to Eubanks. The exchanges on the feet were about even, but Eubanks controlled the cage and scored a takedown late in the round. Eubanks ended the first round on top landing shots to the body of Conners.
Conners took the early part of round 2, really throwing combos and backing Eubanks up. But Sijara would again score a takedown and control the fight on the ground. After a few shots to the body of Conners, Eubanks transitioned to back control and ended round two in a dominate position, landing strikes.
Master Lloyd Irvin instructed Sijara to go for another takedown in the third, while Conners corner told her to keep it standing. It would go Sijara's way as she hit a blast double and took Alexa down early in the third. Sijara quickly passed to half guard and landed hard knees to Alexa's body. As Conners went to defend the knees, Sijara locked in a kimura trap and finished the fight.
Sijara said of the fight, "what an awesome experience! I'm really pumped and can't wait to fight again, this is only the beginning for me. I want to thank my coach, Master Lloyd Irvin, everyone on Team Lloyd Irvin, and all my teammates, friends, and family who helped me get here."
Look for Sijara to fight in her second amateur bout, November 9, 2013, against Ashley Smallwood at LOC Fights in Manassas, VA.
For more information on Team Lloyd Irvin MMA, call 301-449-KICK (lines are open 24/7) or visit: http://www.lloydirvinlive.com.