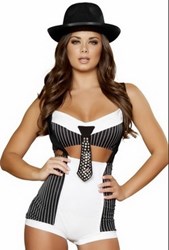 (PRWEB) October 22, 2013
Halloween season is in full swing and Spicy Lingerie, leading online retailer of women's sexy Halloween costumes, has announced the top costumes for 2013 based on Facebook "likes" by customers. With nearly 2,000 standard and plus size costumes to choose from, Spicy Lingerie has noticed some clear front runners for Halloween 2013.
While Spicy Lingerie does offer a wide variety of options, including everything from sexy skeletons and School Girls to French maids and nurses, other more non-traditional costumes seem to be top contenders this Halloween. Additionally, one noticeable trend for Spicy Lingerie's most popular costumes is that they are all exclusive costumes that can only be found at the e-commerce site.
The top five costumes based on Facebook likes for Halloween 2013 from Spicy Lingerie include the following:
1. Sexy Swat Costume
2. Sexy Fur Wolf Costume
3. Sexy French Maid Costume
4. Sexy Monster Costume
5. Sexy Tux and Ears Costume
Other notable popular costumes for 2013 include the Deadly Ninja Costume, Lethal Beauty Costume and Sock Monkey Costume, among others.
Not only does Spicy Lingerie boast one of the largest selections of sexy standard and plus size sexy Halloween costumes available online, but the site also offers customers a free, deluxe lace panty with orders over $100; free shipping on all orders.
ABOUT US
Spicy Lingerie is an established online retailer of lingerie, sexy Halloween costumes, swimwear and clothing on the web. Founded in 2002, Spicy Lingerie ensures that every customer will receive a safe, secure, and private online shopping experience that is secured by YAHOO. Spicy Lingerie is dedicated to customer service and fast shipping turnaround time for all orders. Spicy Lingerie offers the highest quality products at the lowest prices on the web. We want every customer to be satisfied and happy with their shopping experience from Spicy Lingerie. We also offer an easy 30 day return policy. Our friendly live chat, phone and e-mail customer service representatives are more than welcome to help. Start Shopping at Spicy Lingerie, Where Sexy Begins!