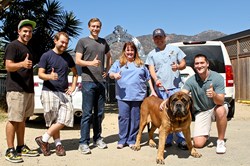 We are very proud to have been chosen for this award and we're happy we had the chance to contribute to a positive cause. - Steve Gatena, CEO, REP Interactive
Hollywood, CA (PRWEB) October 23, 2013
The Telly Awards has named Los Angeles Based Video Agency, REP Interactive, as a Bronze winner in the 34th Annual Telly Awards for their piece titled Malibu Pet Companions – Lenny. With nearly 12,000 entries from around the world this is an honor.
The "Lenny" project is a branded content piece that tells the story of an adopting dog and it impact on a family patriarch suffering from heart disease. The piece shows the process of adopting animals from Los Angeles County Animal Shelters and we discover the emotional attachments families develop with these beloved creatures. The Malibu Pet Companions & Agoura Animal Shelter piece titled "Lenny" won the Telly's second highest accolade in the cause-marketing category of branded content, leaving REP Interactive with 11 Telly's in 2013.
The Telly Awards was founded in 1979 and is the premier award honoring outstanding local, regional, and cable TV commercials and programs, the finest video and film productions, and online commercials, video and films. Winners represent the best work of the most respected advertising agencies, production companies, television stations, cable operators, and corporate video departments in the world.
For its 34th season, The Telly Awards once again joined forces with YouTube to give the public the power to view and rate videos submitted as part of the People's Telly Awards. In addition to recognition from the Silver Telly Council, the judging panel that selects the Telly Awards winners, the Internet community helps decide the People's Telly Awards winners.
A prestigious judging panel of over 500 accomplished industry professionals, each a past winner of a Silver Telly and a member of The Silver Telly Council, judged the competition, upholding the historical standard of excellence that Telly represents.
"The Telly Awards has a mission to honor the very best in film and video," said Linda Day, Executive Director of the Telly Awards. "REP Interactive's accomplishment illustrates their creativity, skill, and dedication to their craft and serves as a testament to great film and video production."
"At REP Interactive we love animals and we're always working to help our community. We've worked with Los Angeles County and the City of Santa Monica several times. Last year we helped promote a public beachfront swimming and event space called the Annenberg Community Beach House, after that we decided to help out a cause related to animals. There are hundreds of special dogs and cats waiting for loving owners at the local animal shelters in Los Angeles. Winning an award for our pro-bono work dedicated towards this cause will hopefully help Malibu Pet Companions and the Agoura Animal Shelter get more exposure. The volunteers at the shelters are all so dedicated towards achieving their mission and they need all of the help and support they can get. We are very proud to have been chosen for this award and we're happy we had the chance to contribute to a positive cause." Steve Gatena, CEO of REP Interactive.
Fortune 500 Companies trust REP Interactive to produce award winning Video & Broadcast Media solutions. REP Interactive is the premiere video agency of choice for companies looking to create video assets that increase revenue, decrease expenses, and achieve communication goals.
To find out more about REP Interactive visit http://www.repinteractive.com and for more information on the Telly Awards visit their website at http://www.tellyawards.com.
About REP Interactive
REP Interactive is an award winning Video & Broadcast Media Agency. REP empowers businesses with video & broadcast media solutions that increase revenue, decrease expenses, and achieve communication goals. Since 2009, clients like Coldwell Banker, Marriott Hotels, and GE Healthcare have relied on REP Interactive for their ability to create innovative solutions to corporate communication problems.
Please contact Chris Carter, REP Interactive for inquiries: Chris at repinteractive (dot) com or call 888-789-1299.