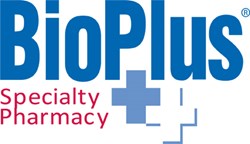 Altamonte Springs, FL (PRWEB) October 23, 2013
BioPlus Specialty Pharmacy (BioPlus), one of the nation's leading specialty pharmacies, became a ChoiceSpecialty provider for MedImpact Healthcare Systems, Inc. as of September 1, 2013, and one of the preferred pharmacy providers of hepatitis C medications to MedImpact's members. MedImpact is the nation's largest privately held provider of pharmacy benefit management (PBM) services.
Specialty pharmacies provide access to intravenous, oral, and injectable medications needed for hepatitis C, bleeding disorders, cancer, arthritis, and other chronic diseases. Typically, access to these types of medications is limited and not often available at local drug stores.
"What I'm excited about with our new relationship with MedImpact is the opportunity to fully collaborate with them to provide the highest-quality care to their clients' members, going far beyond a simple vendor relationship," states Murali Sastry, Director of Managed Care for BioPlus. "In addition to being a preferred provider in their specialty pharmacy network, BioPlus' new role as one of MedImpact's preferred specialty pharmacies for hepatitis C allows us to provide the members with our Best in Class hepatitis C program, which has a proven track record of enhancing patient outcomes," explains Sastry. BioPlus' hepatitis C program includes an initial consult with a Doctor of Pharmacy for every patient starting a new therapy to educate the patient about the medication protocol and provide a detailed explanation of the plan of care, home delivery of medications, hands-on injection training with a nurse, and a medication dose reminder system.
"We are very pleased with the excitement around BioPlus' RxSteward Program, which is designed to reduce unnecessary drug utilization while maintaining our excellent clinical outcomes," shares Russell Gay, Chief Strategic Officer at BioPlus. "Sponsors and plans will have new high-touch options through the collaboration of MedImpact and BioPlus, particularly as new high-cost biologics are introduced for hepatitis C, oncology, and other specialty therapies," adds Gay.
About BioPlus Specialty Pharmacy
BioPlus is a pharmacist-owned, national specialty pharmacy providing high-touch services and specialty pharmaceuticals for bleeding disorders, cancer, hepatitis C, immune deficiencies, neuromuscular disorders, and other complex, chronic conditions. BioPlus is licensed in all 50 states and accredited by URAC, VIPPS, and Accreditation Commission for Health Care (ACHC). BioPlus is one of the nation's largest independent specialty pharmacies; patients can contact the pharmacy toll free at 1-866-514-8082.
About MedImpact Healthcare Systems, Inc.
MedImpact Healthcare Systems, Inc. (http://www.medimpact.com), founded in 1989 and headquartered in San Diego, CA, is a PBM that combines subject matter expertise with innovative technology and services to deliver better healthcare outcomes and improve its clients' positions in the market. MedImpact provides PBM services to 47 million members of health plans, hospitals, and employers in the U.S. and abroad. MedImpact's model is unique: avoiding conflict of interest by deriving revenue from effectively managing client pharmacy benefits rather than dispensing drugs.
For information: http://www.bioplusrx.com or
Contact: info(at)bioplusrx(dot)com
Phone: 1-888-292-0744