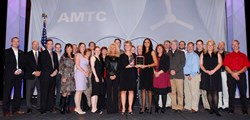 Virginia Beach, VA (PRWEB) October 23, 2013
It was a night to recognize the "best of the best" in air medical safety Monday at the Air Medical Transport Conference Annual Community Awards, part of the annual AMTC event held this year in Virginia Beach, Va.
More than a dozen awards were presented, including Program of the Year, sponsored by American Eurocopter, presented to the University of Cincinnati Medical Center Air Care & Mobile Care (ACMC) unit. The award is given annually to the air medical transport program that has best demonstrated safety as its highest priority.
Since its inception in 1984, the Air Care & Mobile Care (ACMC) team has completed nearly 35,000 accident-free patient care flight missions and 200,000 ground missions. Air Care & Mobile Care was one of the first transport programs in the country to be CAMTS accredited in four levels of transport and maintained the accreditation since 1996.
As a part of the continuum of care offered by the larger organization, the University of Cincinnati Medical Center (UCMC), Air Care is the only program in the region to carry an emergency physician or advanced practice nurse on every flight. ACMC continues to develop programs to address critical needs. It is working with UCMC's Maternal and Fetal Medicine group to create a specialty transport team of Labor and Delivery nurses to provide fetal monitoring and high-risk OB care in transport. ACMC is also currently planning curriculum and testing for a critical care paramedic program, which will also enhance the care their patients receive.
"To continue to be a leader in transport medicine, we know we have to always be looking for ways to take the program to the next level," said Teri Grau, ACMC Director. "To do this, we stay focused on our mission of bringing the world class care of UCMC to the patient through advanced transport medicine. Our vision is to be the recognized world leader in transport medicine, the standard by which other programs are measured."
About American Eurocopter
American Eurocopter is the U.S. affiliate of Eurocopter, the largest helicopter manufacturer in the world, and a subsidiary of EADS North America Holdings, the North American operations of EADS, a world leader in aerospace, defense and related services. American Eurocopter is a helicopter manufacturer and markets, sells and supports the broadest range of civil and parapublic helicopters offered by any manufacturer. The product line represents the most cost-effective, technologically-advanced helicopters, ranging from light single to heavy twin aircraft, serving all markets and missions. American Eurocopter's headquarters and main facility are in Grand Prairie, Texas with a large manufacturing and production facility in Columbus, Miss.