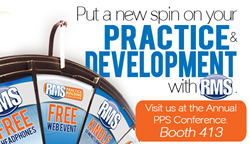 Sturtevant, WI (PRWEB) October 24, 2013
Rehab Management Solutions, a Physical Therapist owned-and-operated company that helps physical and occupational therapists open and grow their own practices, is excited show their support for the physical therapy industry and attend the Private Practice Section of the American Physical Therapy Association's (PPS) annual conference on November 6-9, 2013 in New Orleans, LA. In addition to showing therapists how to "put a new spin" on their practice at booth 413, Principal & COO Connie Ziccarelli will present twice, offering education on how to improve a practice's bottom line and create repeat business opportunities.
The team at RMS is excited to share their mission with all attendees, which is to grow physical therapists and clinics through proven operations and systems. Physical therapists attending the conference are encouraged to stop by booth 413 to learn more about how RMS can provide solutions in Billing & AR Management, Practice Building Education, Industrial Rehab Programs, Documentation Compliance, Marketing, and much more. In addition, providers are encouraged to spin a prize wheel to receive several different prizes and be entered into a raffle for the chance to win a Kindle Fire.
On Friday, November 8, 2013, Connie Ziccarelli is excited to present twice at the PPS conference. From 8:30 a.m.–9:30 a.m., she will host the "Administrators Certificate Graduates' Networking Session," monitoring a discussion on topics including changes in CPT-billing and reimbursement, corporate compliance, marketing for a private practice, and recognizing best practices for successful business operations. Wrapping up the day from 3:00 p.m.–5:00 p.m., Connie will present "How to Optimize Cash Flow Through Implementation of a Revenue Cycle," in which she will educate providers on how to integrate tools that help identify variance, audit documentation, increase revenue, and decrease denied claims. In addition, she will discuss how to create benchmarks and track progression throughout the "revenue cycle" to ensure a healthy bottom line and repeat business opportunities.
For therapists unable to attend the PPS conference in New Orleans, they are encouraged to visit http://www.rehabmgtsolutions.com or call 877-552-2996 for more information on the services RMS can provide. In addition, therapists are able to schedule the same educational courses presented by Connie in New Orleans at their practice, either in-person or by web-based programming upon request.
Rehab Management Solutions is a PT-owned and PT-led company that focuses on helping PTs and OTs open, manage and grow practices. For more information, contact Larry Briand, MS, PT, ATC at 877-552-2996 or at lbriand(at)rehabmgtsolutions(dot)com.