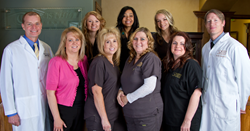 "We wanted to make LASIK more fun for our patients"
SLC, Utah (PRWEB) October 25, 2013
Davis Vision Center announced last week the continuation of their most successful program yet for LASIK Utah patients. This program involves treating patients with the latest LASIK technology and letting them walk out the door with the latest iPad that boasts a high definition retina display.
"We wanted to make LASIK more fun for our patients," comments Dr. Brian Davis. "When someone gets LASIK they are amazed at the detail and bursts of color that they were missing out on. So we decided to give them an iPad, which has an incredible screen resolution, so they can enjoy their new vision even more," continues Davis.
Dr. Davis uses advanced technology including blade free intralase and iLASIK to achieve the best outcomes possible. He has completed over 27,000 procedures and every patient has seen an improvement in vision.
To take advantage of this offer in Utah, Lasik patients need to contact Davis Vision Center to set up a free screening. They can do this by visiting http://www.davisvisionmd.com or by calling 801-590-0864. This offer is only good for the next 20 patients in October so they are encouraged to act fast.